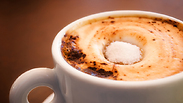 Cheaper coffee at Israel's international airport
Photo: Shutterstock
Coffee prices at Israel's Ben-Gurion Airport are about to be reduced following a successful consumer protest.

The Café Café chain has won a bid to operate a café called GO at the airport's Shchakim Mall (before passport control) and will offer four products for a subsidized price: Cappuccino for NIS 11.90 (about $3); espresso for NIS 7.90 ($2), butter croissant for NIS 11.90 and a bottle of mineral water for NIS 7.90.

Grim Forecast

Drop in tourist stays in 2014, which began following Gaza conflict, will likely have an ongoing effect on 2015's hotel occupancy rates and profitability.

The five-year contract begins January 1 and Café Café will pay the Israel Airports Authority (IAA) about NIS 2 million less per year compared to the previous tender.

Following the past summer's protest against the high prices of coffee and sandwiches at Ben-Gurion Airport, the IAA decided not to realize concessionaires' option period as part of the contract for operating cafés in the Shchakim Mall and in the Duty Free area, and to issue instead a bid for cafés offering reduced prices.

Sources in the industry estimated this week that the leading chains dominating the airport at the moment, which are still selling coffee for particularly high prices, will have no choice but to adapt to the new reality and reduce their prices.

The Arcaffe chain, which did not participate in the recent IAA tender that was won by Café Café, and has no intention of participating in future bids, is expected to vacate the Duty Free area as soon as its contract ends.

Next month, the IAA is expected to issue a bid for two additional cafés in the Shchakim Mall and the Duty Free area, in which the minimum fee will be reduced by about 50%.

According to Yoram Shapira, the IAA's deputy director for general Commerce and Business Development, "In the next tender we will also reduce the fee for the chain that wins the bid by more than NIS 6 million and reduce consumer costs."

The activity of the new chains in the Duty Free area is expected to begin in mid 2015. In the meantime, passengers will continue to pay NIS 15-19 for a cappuccino, NIS 15-17 for a butter or chocolate croissant, and NIS 29-35 for a sandwich.

Automatic vending machines in the Duty Free area offer sandwiches for NIS 14, and the IAA has promised to add signs directing passengers to these machines.