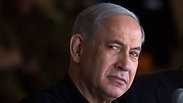 Prime Minister Benjamin Netanyahu
Photo: EPA
Prime Minister Benjamin Netanyahu on Wednesday said Europeans appeared to have learned nothing from the Holocaust, condemning the European Union's decision to remove Hamas from its terror list.
"In Luxemburg the European court removed Hamas from the list of terrorist organisations, Hamas that has committed countless war crimes and countless terror acts," Netanyahu's office quoted him as saying.
Related stories:
He went on to say that "It seems that too many in Europe, on whose soil six million Jews were slaughtered, have learned nothing."
"But we in Israel, we've learned. We'll continue to defend our people and our state against the forces of terror and tyranny and hypocrisy," he said at the start of a meeting with US Republican Senator-elect Joni Ernst.
The European Union's second highest court annulled on Wednesday the bloc's decision to keep Hamas on a list of terrorist organizations, but temporarily maintained the measures for a period of three months or until an appeal was closed.
The General Court of the European Union said the contested measures were not based on an examination of Hamas's "acts examined and confirmed in decisions of competent authorities" but on imputations derived from the media and the Internet.
Prime Minister Benjamin Netanyahu swiftly called on Europe to maintain the ban. "We expect them to immediately put Hamas back on the list," he said in a statement from Jerusalem, denouncing Hamas as "a murderous terrorist organization".
The EU court did not consider the merits of whether Hamas should be classified as a terror group, but reviewed the original decision-making process. This, it said, did not include the considered opinion of competent authorities, but rather relied on press and Internet reports.
"The court stresses that those annulments, on fundamental procedural grounds, do not imply any substantive assessment of the question of the classification of Hamas as a terrorist group," the court said in a statement.
It therefore ruled that the asset freezes should stay in place for three months, pending further EU actions, in order to ensure that any possible future freezing of funds would be effective.
The court's decision followed an appeal filed by Hamas against its inclusion in the European Union's blacklist.
The EU is considering its next steps. It has two months to appeal.
The terrorist list designation bars EU officials from dealing with the group, and requires that any of the group's funds in EU countries be frozen.
Hamas official Izzat al-Rishq welcomed the decision. "This is the correction of an error and an injustice that was caused to Hamas, which is a national liberation movement."
Salah Bardawil, another Hamas official, called the decision a "strong, good shift" that he said would ultimately lead to European action against Israel.
Netanyahu slams Geneva conference
Netanyahu also lambasted an international conference in Geneva that he said sought to probe accusations of Israeli war crimes.
Among the concerns raised in the 10-point declaration adopted Wednesday are that Israel should "fully and effectively" respect the Fourth Geneva Convention meant to protect civilians during times of war including in East Jerusalem and other occupied territories.
"Today we witnessed staggering examples of European hypocrisy," Netanyahu said. "In Geneva they call for the investigation of Israel for war crimes."
Both the United States and Israel shunned the talks, held amid mounting tensions between Palestinians and Israelis, warning that the event threatened Switzerlands role as neutral arbiter.
Paul Fivat, Switzerland's special ambassador for the Geneva Conventions, said that the intention was "not to accuse, it was not a tribunal.. it was a place simply for the parties to reiterate what is international law".
"This declaration is a signal that is being sent to conflicting parties, especially the civilian populations, that there is a law which is protecting their interests," he told reporters.
But the Israeli foreign ministry said the talks undermined international law and confers legitimacy on terrorist organisations and dictatorial regimes wherever they are.
The conference convened today in Geneva was a political exercise, lacking any basis in the Geneva Conventions, the ministry said in a statement. It added: It wont stop Israel from implementing its primary obligation to its citizens — to provide them with security and protect them from merciless and fanatic terrorists (who) do not hide their desire to see Israel wiped off the map of the Middle East.
The US also boycotted the conference, saying that it risks politicising the Geneva Conventions.
The Palestinians warn that they may seek to sign up to the International Criminal Court and have threatened to file a suit against Israel over its July-August war against Hamas in the Gaza Strip, in which more than 2,000 Palestinians were killed, most of them civilians.
Itamar Eichner, Elior Levy, Roi Kais, Reuters and the Associated Press contributed to this report