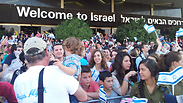 This year's new immigrants ranged in age from three weeks to 98 years old
Photo: Liron Nagler-Cohen
Immigration to Israel from North America increased 7% in 2014 from the previous year, with 3,762 olim from the United States and Canada, compared to 3,504 olim in 2013, according to figures released by the Nefesh B'Nefesh organization.

A 6% growth in aliyah from the United Kingdom was recorded during the same period.

Special Holiday

Young immigrants aged three to 10, who made aliyah this past summer, celebrate this first Hanukkah in the Jewish state at a special Nefesh B'Nefesh event.

Nefesh B'Nefesh facilitates aliyah to Israel in partnership with the Ministry of Aliyah and Immigrant Absorption, the Jewish Agency for Israel, Keren Kayemeth LeIsrael (KKL), and JNF-USA.

Over the course of 2014, the organization assisted with 17 special aliyah flights from North America, bringing 296 families with 813 children under the age of 18 and 1,703 singles.

These olim ranged in age from three weeks to 98 years old, mostly from New York, New Jersey, Florida, California, Illinois, Maryland and Pennsylvania, as well as from Quebec and Ontario, Canada.

British Aliyah displayed an increase of its own with 525 British Olim in 2014, including 49 families, 97 children and 183 singles, most of them from London and Manchester.

In addition, 2014 saw a 10% increase in lone soldiers who make aliyah without immediate family, who joined some 3,000 lone soldiers already serving in the IDF.

Some 350 young Jews from North America enlisted in the IDF in 2014 as lone soldiers. They largely joined the Golani, Nahal, and Paratroopers Brigades, followed by the Air Force, Home Front Command, Givati Brigade, the Artillery, the Caracal (Co-Ed Combat Unit) and Engineering Corps.

Nefesh B'Nefesh works with Friends of the IDF (FIDF) to provide support for all lone soldiers from all countries, before, during and after their IDF service.

Amongst the top cities to welcome olim in 2014 were Jerusalem, Tel Aviv, Beit Shemesh and Ra'anana.

The Nefesh B'Nefesh–KKL Go North and Go South programs successfully facilitated the Aliyah of hundreds of olim to Israel's northern and southern frontiers, including Haifa, Safed, Zichron Yaakov, Nahariya, Kiryat Yam, Karmiel, Nesher, Caesarea, Ma'alot and Kiryat Shmona in the north, and Be'er Sheva, Ashkelon, Arad, Eilat, Even Shmuel, Kiryat Gat and Midreshet Ben-Gurion University in Sde Boker in the south.

Nefesh B'Nefesh's employment and government advocacy departments continued to assist medical professionals by streamlining the licensing process making it easier for 46 doctors and 21 psychologists from North America and the UK to continue their careers in Israel, the organization says. Other leading professions included finance, law, education, social work and marketing.

"Despite the events that transpired during the traditional summer peak period for Aliyah, we saw that immigration to Israel grew significantly from North America and the UK," says Nefesh B'Nefesh Vice Chairman Erez Halfon.

"These Olim, including hundreds of soldiers, left behind careers, families, and communities, and their sacrifice and courage was widely acknowledged by the Israeli public," he said. "They are fulfilling the Zionist dream and have made valuable contributions to strengthening Israel in the economic, political, and national security spheres."