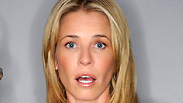 Chelsea Handler
Photo: MTV International
Jewish American comedienne and television host Chelsea Handler is planning to visit Israel next month, Ynet has learned.

Pending any last minute changes, Handler will arrive in the country for a private visit and will participate in a fundraiser for the Tal Center for Integrative Oncology at the Sheba Medical Center.

All in the Family

Jewish American comedian breaks into tears on episode of 'Who Do You Think You Are?' after discovering her grandfather served in German army during World War II.

The details of the visit are being finalized these days between Handler and several Israeli producers: Actors' agent Zohar Yakobson, who founded the Tal Center in memory of her daughter Tal Yakobson, who died of cancer; television producer Haim Slutzky; and Dari Shay, the owner of the Hot Israeli Entertainment channel and Channel 8.

The date of Handler's arrival has yet to be finalized, although sources with knowledge of the details say she has already confirmed her arrival in principle.

Chelsea Handler, 39, is known as an uninhibited comedian. Only recently, she mocked Vladimir Putin by posting a topless picture of herself in the same pose as the Russian president, with a message slamming sexism.

"Taking this down is sexist. I have every right to prove I have a better body than Putin," she wrote alongside the photo. "If a man posts a photo of his nipples, it's ok, but not a woman? Are we in 1825?"

Handler has a successful career on television, including a late-night talk show called "Chelsea Lately" which she hosted on the E! network for seven years.