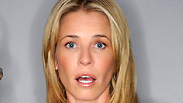 ADL says Chelsea Handler 'took the joke way overboard'
Photo: MTV International
Comedienne and "Chelsea Lately" host Chelsea Handler may have lost a fan in the Anti-Defamation League (ADL).

Earlier this week, Handler's sidekick Chuy Bravo appeared on stage wearing an Adolf Hitler costume. When asked why he was dressed that way, he responded: "Because Germany won the World Cup."

But the jokes didn't stop there. Comics on the panel chimed in with additional Nazi-related quips, with one saying "I'm a Jew, but I'm still glad Germany won. It's nice for them to have something gold that they didn't pry out of my grandfather's mouth."

Offensive Tweets

Anti-Defamation League says tweets flooding social media are 'insulting to the German team and demeaning to Holocaust survivors and victims.'

Bravo ended the segment with the comment, "I am dressed as Hitler as a joke, but I want everyone to know that he was a terrible man. I love Jews. Good night," but that did not appease ADL National Director Abraham Foxman.

"While we try to give comedians leeway and do not believe that Nazi jokes should be completely off limits," Foxman said, adding that "this was an instance of taking a Hitler parody to the extreme. It was tasteless, offensive and hurtful, both to Holocaust survivors and their families and to members of the German team and all Germans."

"This Hitler parody in itself was tasteless," said Foxman, "but Chelsea Handler's references to it throughout the program and her connecting it with Germany's World Cup victory took the joke way overboard."

In the letter Foxman wrote to E!, he explained that the jokes on Handler's show "only play into this trivialization of what happened during the Holocaust… This trend only seems to be getting worse as time passes and as Holocaust survivors and the memory of what really happened during World War II dwindles."

Reprinted with permission from Shalom Life .