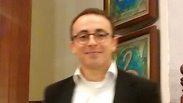 When Mark Halawa lights his family's menorah during Hanukkah, it is not without recalling his unique journey as a Kuwaiti Muslim to Orthodox Judaism. The 38-year-old businessman, who lives today in Jerusalem with his wife and family, keeping Shabbat and kosher dietary laws, began his journey 12 years ago in Canada.

"I was born to a secular Muslim family in Kuwait," Halawa told Tazpit News Agency in an exclusive interview. "We didn't strictly follow Muslim traditions, but I would accompany my grandfather, who was religious, to the local mosque."

Halawa's Story

After years of being educated to hate Jews, Mumtaz Halawa was shocked to learn he is Jewish. He changed his name to Mordechai, moved to Israel and settled in Jerusalem. 'I feel like Abraham,' he says.

Halawa spent a lot of time with his grandparents and knew early on that his maternal grandmother came from a Jewish family. "We knew that our grandmother's family was Jewish but it never meant anything more," said Halawa.

"I saw a siddur once in my grandma's home and sometimes I would see her tearfully read from it when she was alone," he recalls. "I once even found her birth certificate, which contained the last name, Mizrahi, and Hebrew, Arabic and English on the document's header."

At age 13, Halawa's family left Kuwait following Sadaam Hussein's takeover of the tiny Persian Gulf nation which had left his father's business in ruins. The family immigrated to Canada but eventually returned to the Middle East. Mark, however, stayed behind to pursue studies at the University of Western Ontario.

It was during his time in Canada when the hateful stereotypes that Halawa grew up with against Jewish people and Israel began to fall apart. "In Kuwait, when I would go with my grandfather to the mosque, the imam always preached horrible things against Jews. The media, scouts, everything around me was against Israel and the Jewish nation."

"It was always confusing to me because my grandmother, who is a very nice lady, came from a Jewish background."

But the moment that marked Halawa's official shift took place during a chance meeting with a Jewish rabbi at his university's library in Ontario. "I was studying in the library one day and I saw a man dressed in Jewish Hassidic garb. "I went up to him, and asked him, are you Jewish?"

Halawa found himself telling the man, Dr. Yitzchok Block, a Harvard professor of philosophy and Chabad rabbi who taught at the University of Western Ontario, all about his family's background.

Halawa's Jewish grandmother was born in Jerusalem during the years of the British Mandate in the 1930s. She had married a Jordanian soldier, Muhammad al-Masri from Nablus, and converted to Islam. The couple moved to Zarqa, Jordan, where her husband was eventually stationed. When King Hussein expelled his army of Palestinians following the 1970 Black September uprising, the family moved to Kuwait, where Halawa's mother met and married his father.

"The rabbi told me that according to Jewish law, I am considered Jewish. And according to Muslim law, I am Muslim.

"I was shocked to discover that I was Jewish," Halawa told Tazpit. "But that was the point when my journey to Judaism began."

Halawa joined a Jewish congregation in Toronto and in 2011, visited Israel for the first time and went to study at Jerusalem's Aish HaTorah Yeshiva.

"My family went through various levels of shock. At first, they were very skeptical and then angry. Today, I avoid talking about religion with my mom.

"I'm just a human being like everyone else, striving for good and truth. I grew up hating Jews but today I find it an honor to belong to the Jewish nation – an honor worth all the family turmoil my journey has caused," said Halawa, married, who lives today in Jerusalem.

"I hope I can be a bridge between Muslims and Jews, between the Arab nations and Israel. There is a lot of misinformation about the other on both sides," notes Halawa.

"I feel very fortunate that I am continuing my grandmother's line and the path of the people she left behind."