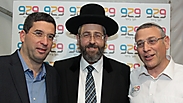 Deputy Education Minister Avi Wortzman (L), Chief Rabbi David Lau and Rabbi Benny Lau
Photo: Kobi Weitzman
A new Bible study project was launched last week at the President's Residence in Jerusalem, in a bid to promote consistent and continuous reading of biblical verses in Israel's different communities and sectors.

The project, "929 – Studying the Bible Together," will be completed on Israel's 70th Independence Day, in three years and seven months.

Jewish Revival

Authors produced the Bible after discovering that there was no suitable Torah texts for them to read to their children.

The project was initiated by Deputy Education Minister Avi Wortzman of the Bayit Yehudi party and Rabbi David Lau and aims to integrate the Book of Books in the Israeli discourse, breathe life into the stories of the Bible and make it accessible to broad audiences in the Israeli society.

"929" – the number of chapters in the Bible – is based on a continuous reading of one chapter a day.

"We aim to create the largest Bible study community in the world," said Wortzman.

The project is expected to cost about NIS 47 million (roughly $12 million).
1 million Jews expected to participate
A survey conducted ahead of the project's inauguration revealed that 93% of Israelis have a Bible in their home, but only few of them open it and read it. The project seeks to translate the book's popularity as the bestselling book in the history of mankind into a daily meeting with its verses.

The project will include cultural events throughout the year, study groups in private places and educational institutions, and a Facebook page which will be updated on a daily basis with the relevant chapter – with the help of intellectuals such as authors A. B. Yehoshua, Zeruya Shalev and Eshkol Nevo, actress Hanna Azoulay Hasfari, Rabbi Yoel Ben-Nun, Rabbi David Stav and others.

"Five years have passed since I made it my goal to fulfill one of my greatest dreams," said Wortzman, stressing that "within five years, one million Jews around the world are expected to participate in the program and become part of the world's biggest Bible study community."

Rabbi Benny Lau said that he was very excited about "the attempt to create a cure for society. A cure in which you don't complain about what you don't have, but create together what you do have."

His cousin, Chief Ashkenazi Rabbi David Lau, vowed to participate in the project as well.