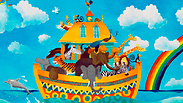 Copyright Darius Gilmont 2014
Copyright Darius Gilmont 2014
Clouds drift across a blue sky, the sun peeks from behind them and a rainbow shines. Hippos, elephants, zebras cram in pairs onto an orange ship: Noah's Ark is on the cover of the first children's Jewish bible in German for 50 years.

For a long time now, the tradition of publishing a Jewish Bible in German for schools and kindergartens seems to have fallen by the wayside. The last one was by Abrascha Stutschinsky in 1964.

But authors Hanna Liss, 49, and Bruno Landthaler, 56, have toyed with writing a children's Torah in German since 2002. The married couple had searched for a Bible that they could read to their three children; but even though their children attended a Jewish school, there were no texts of the Torah in German for them. So they created their own.

"We had one eye on Rashi, the great medieval interpreter of the Bible", says Landthaler, who studied Judaism and Jewish Theology. Liss, his wife, is a professor of Bible and Jewish Biblical Studies at the University of Heidelberg. She interpreted the other parts, Landthaler adds.

Initially the Bible was designed for children between 6 and 14 years of age. Yet it includes supplementary explanations for adults because, as Landthaler stresses, parents should read the texts too, and not only base their knowledge on what they learned in the synagogue.

"It's important that German (biblical) texts are available, because the Jewish communities in Germany are growing," Landthaler says. According to the American Jewish Committee, Berlin has the world's fastest-growing Jewish community. Berlin's local government says that more than 10,000 Jews now live in the city, and there are three times as many people joining as leaving.

Gesa Ederberg, a woman rabbi in Berlin's Jewish conservative movement is just waiting for the Bible to come out, Landthaler says. Several German religious education teachers are also working with their texts, which have already been published online.

The colorful pictures accompanying every parasha (portion) of the new Bible have been created by commission from Israeli artist Darius Gilmont. The 50-year-old painter, originally from London and a resident of Tel Aviv for 20 years, used aquarelles to illustrate all the texts. He painted them in a fresh and light way with bright colors, he says, because he wanted to mirror the richness in the world.

"Every artist paints less what he sees outside, but more inner landscapes", Gilmont explains. He finds it extraordinary that Germany has a growing and vibrant Jewish community.

Gilmont has produced a great deal of art work with religious themes. He was inspired by a long-ago visit to Sinai, which drove him to paint historical biblical scenes. His next project will be to produce art work for a Haggadah, which he calls a classic illustration project for any Jewish artist.

The first book will be published in German in April, under the title "Bereschit – Am Anfang". It forms the first of a five-part series named "Tell it to Your Children",

which has one volume for each book of the Old Testament, each named using their traditional Hebrew titles.

The second volume, "Schemot – Names" will be published in autumn 2014; the third, "Wajikra – He called", is set for spring 2015; volume four, "Bamidbar – In the desert" comes out in autumn 2015; and volume five "Devarim – Words" will be published in spring 2016.