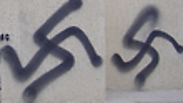 'Things like this cannot be tolerated. This come from a lack of education' (illustration)
Photo courtesy of Chabad Info
A father and daughter in Philadelphia became the targets of anti-Semitism earlier this week. The two woke up one morning to find the hateful words "Move Jew" spray painted onto their garage door.

The other members of the greater Yardley-Marketfield community, stunned by the act of racism, have rallied behind Michael and Samantha Raker to show their support and to denounce acts of intolerance in their community.

Anti-Semitism

Swastikas and slurs sprayed on walls of historic graveyard in Larissa; Jewish community say incident insults Greek culture.

During a press conference organized by State Rep. Steve Santarsiero to show that this type of intolerance won't be taken lightly in the township, Samantha Raker described the incident as both "heartbreaking" and "upsetting," Bucks Local News reported.

"It's ironic that in this season of light and hope we are here today to address an act of hate," said Santarsiero. "It is appropriate that we come together and say in a loud voice that there is no place for hate in this place. We will not be silent. We will speak out.

"By our Constitution, it is appropriate that we have people here today of all faiths, backgrounds and community leaders to let everyone in our area know that this is unacceptable.

"Today, the focus of our gathering is to speak with one voice that we are a community of tolerance, a community of love, a community of caring and that this awful act is not welcome and will not be tolerated."

In addition to support from local officials, the Raker family was joined by over 40 members of the local religious community. Speakers who attended included several rabbis from the surrounding Philadelphia area, including Rabbi Josh Gruenberg of the Beth El Congregation, Sister Julia Lanigan (the president of Grey Nuns of the Sacred Heart), and Lee Noor Phillips (the assistant to the outreach director of the Zubaida Foundation).

According to Rabbi Gruenberg, "Things like this cannot be tolerated. Incidents like this come from a lack of education."

The vandalism and hate incident is currently under investigation by the Lower Marketfield Police Department.

Reprinted with permission from Shalom Life .