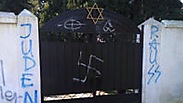 The vandalized entrance to the cemetery
Members of Greece's Jewish community were shocked last Wednesday to discover that a former Jewish cemetery had been desecrated by neo-Nazis.
The vandals sprayed swastikas and the words "six million more" in the ancient cemetery located in Larissa, in central Greece.
Living in Fear
Interior minister admits anti-Semitic acts have more than doubled in country in past 10 months, says France will defend Jews 'with all its strength.'
It appeared that the neo-Nazis did not enter the locked cemetery grounds, but wrote on the gates and walls, according to the Greek Reporter. The vandals signed the graffiti "the skinheads of Larissa".
The local Jewish community was said to be outraged and demanded that the police quickly apprehend those responsible. "We call on authorities to do justice and take all the necessary steps in order to arrest and punish the perpetrators," read an official response by the Greek Jewish community.
"We demand protection for Jewish sites in Greece that are sacred to us. Anti-Semitism is not a threat only to Jews; it's a threat to all democracy."
The Greek government was quick to condemn the incident. Evangelos Venizelos, the deputy prime minister and foreign minister, called it "an unacceptable and incomprehensible criminal act."
The World Jewish Congress released a statement from the umbrella organization for the Jewish communities of Greece. "The Central Board of Jewish Communities in Greece, the Jewish Community of Larissa, and Greek Jewry express their sorrow and indignation and strongly condemn the desecration of the Jewish cemetery of Larissa with swastikas, threats such as 'six million more' and anti-Semitic phrases similar to those used by the Nazis to exterminate the Jews of Europe," read the statement.
"The desecration of a cemetery, which is a holy place for all religions, is not only an insult to the memory of our dead brothers, but also an insult to the culture of our country and the city of Larissa."
Jewish settlement in Larissa began in Roman times, and today there is a community of about 300 people. The city has an active synagogue, a tiny Jewish school, the cemetery, and a monument commemorating local victims of the Holocaust. There were about 2,000 Jews in Larissa on the eve of the Holocaust, but those who did not manage to escape before the Nazis invaded were sent to Auschwitz.
At the end of October, the Holocaust Monument in Athens was vandalized with graffiti signed by the extreme nationalist and anti-Semitic organization "Unaligned Meander Nationalists". In mid-December, assailants on motorcycles fired dozens of shots at the Israeli embassy in Athens.