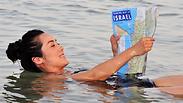 A tourist enjoys the Dead Sea
Photo: Shutterstock
The drop in the number of tourist entries to Israel in the past summer has been moderated, according to figures presented by the Tourism Ministry for 2014, resulting in a mere 1% decrease compared to the number of tourists who arrived in the country in 2013.

Moreover, the drop in the overall number of visitors (including one-day visitors who did not spend the night in Israel) amounted to only 7% in 2014, thanks to the significant increase in incoming tourism in the first half of the year.

Tourist Numbers

Overall trend has its roots in November 2012 conflict between Israel and Hamas , when cruise operators began avoiding Israeli ports for their itineraries.

A total of 3.3 million visitors arrived in Israel in the past year, including 2.9 million tourists who stayed in the country overnight.

About 626,000 of the visitors came from the United States (19%), 567,000 arrived from Russia, 301,000 from France, 196,000 from Germany and 179,000 from Britain.



Tourism Ministry Director-General Amir Halevy says Operation Protective Edge did stop the tourism momentum, but that a light can already be seen at the end of the tunnel.

"A recovery will be felt in the first half of 2015. The ministry's NIS 500 million ($128 million) aid package to tourism businesses has bolstered the industry and is restoring it as a growth engine which generates tens of billions of shekels for the Israeli economy," he added.

The Tourism Ministry estimates the output from tourism in Israel at NIS 41 billion, including NIS 19 billion in income from foreign tourists, NIS 12 billion in income from domestic tourism and NIS 10 billion income from outgoing tourism.

Some 110,000 workers are employed in Israel's tourism industry, about one-third of them in hotels.