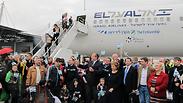 2014 marked a record high in aliyah
Although Israel faced another war and tensions rose in Jerusalem, 2014 was a record-breaking year in terms of aliyah (immigration) statistics.

According to the end-of-year figures released on Wednesday by the Jewish Agency for Israel and the The Ministry of Immigrant Absorption, aliyah hit a 10-year high in 2014 – with the arrival of about 26,500 fresh immigrants.

Zionist Dream

A total of 3,762 Jews from US and Canada and 525 from UK fulfilled their dream to immigrate to Israel in the past year, Nefesh B'Nefesh reports.

The year 2014 saw a 32% increase in immigrants, compared to the approximately 20,000 immigrants that made aliyah to Israel in 2013. For the first time in Israel's history, France has topped the list of countries of origin for immigrants to Israel – 7,000 new immigrants from France arrived in Israel in 2014, more than twice as much as the 3,400 French immigrants who arrived last year.

Furthermore, about 5,840 new immigrants came to Israel from Ukraine, compared to 2,020 in 2013. The 190% immigration increase was primarily due to the ongoing instability in the eastern part of Ukraine.

Jewish Agency Chairman Natan Sharansky said, "2014 was a year of record-breaking aliyah. This year also saw a historic shift: For the first time in Israel's history, the number of immigrants who came to Israel from the free world is greater than that of immigrants fleeing the countries in distress.

"This trend is evidence of Israel's attractiveness as a place where it's good to live, as well as of the success of our joint efforts to promote aliyah and strengthen connections between Jews around the world and the State of Israel."

Minister of Immigrant Absorption Sofa Landver said: "We expect that some 10,000 new immigrants will come from France alone next year, and we will surpass 30,000 immigrants from around the world – and even more."

At the top of the list of cities that took in the most new immigrants in 2014 is none other than Tel Aviv, which welcomed 3,054 new citizens. Following Tel Aviv, the coastal city of Netanya came in 2nd place embracing 2,923 new immigrants and Jerusalem came in 3rd place with 2,808 new immigrants moving to the holy city.

Haifa received 1,785 new immigrants and in Ashdod, 1,523 new Israeli citizens moved to the southern coastal city.