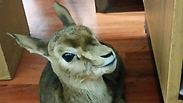 Fawn found in Hebron
Photo: Israel Police Spokesman's Unit
The Judea and Samaria District Police came across a fawn that was illegally captured by Palestinians in the shed of a private home in Hebron on Friday during a search operation conducted by officers in the investigation and intelligence unit of the police.
The fawn, an animal classified as protected wildlife in Israel, was found chained up inside a barrel, and was transferred to the Jerusalem Biblical Zoo for medical treatment.
Fawn found by police at Hebron home
Chief inspector Yaniv Ohana, who commanded the forces that entered the home, said: "We carried out the raid in order to search for weapons. When we arrived, we found 2,000 bullets for M16 rifles and many parts for M16 rifles. One of the detainees is involved in assembling weapons to be used in terror attacks."
The officers uncovered the fawn by chance. "All of a sudden, we heard noises from a shed in the home. We didn't understand what it was, and began searching," Ohana says. "We then found a fawn chained up inside a barrel. We removed him and put him in our vehicle. We immediately called the veterinary department at the Jerusalem Biblical Zoo. They joined us and assumed responsibility. The fawn received vaccinations at the zoo."
According to Ohana, the residents of the home had intended to slaughter the fawn and eat it. The Judea and Samaria District Police officers noted that they had recently dealt with other poaching cases, some of which also involved protected wildlife.
As part of the search, the officers also found drugs at the home. Two Palestinians, a father and son, were arrested and taken for interrogation at the Hebron District Police.