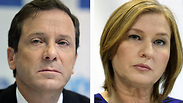 Zionist Camp leader Herzog (L) and Livni (R)
Photo: EPA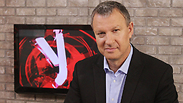 Erel Margalit
Photo: Ido Erez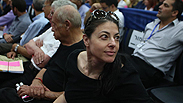 Merav Michaeli
Photo: Yaron Brenner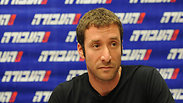 Itzik Shmuli
Photo: Yaron Brenner
Labor MKs open up about party politics, electioneering
Erel Margalit wants to be Israel's next finance minister; Merav Michaeli just wants to get through the party primaries, Itizk Shmuli is optimistic: All three were elected less than two years ago, now, they aren't merely seeking re-election, but want an upgrade too, and are certain Herzog will be the next prime minister.
Erel Margalit wants to be finance minister in the next government. "I have the skills and ability to rescue the economy from its current state," he says, refusing to be deterred by Labor leader Isaac Herzog's announcement that Prof. Manuel Trajtenberg is the party's candidate for the post.

"Herzog and I are at odds," Margalit continues. "He's told me I'll be a senior economics minister but he also wants to push Trajtenberg into the Finance Ministry. I think the finance minister should come from within the party, but the dance is not yet over. I'll be a senior economics minister. The treasury needs to promote policies that will get the economy back on track."

Elections 2015

Sources within Labor party say Herzog holding talks with number of former IDF generals in hopes of securing military expert for center-left camp, as some insiders give insight to how and why former defense officials became such a hot commodity in elections.

Are you disappointed?

"I'm glad he sees me as a candidate for a senior economics portfolio and I'm pleased good people like Trajtenberg are joining the party," Margalit says.


In contrast, Merav Michaeli just want to get through the party primaries in one piece, and Itzik Shmuli, who led hundreds of thousands in the 2011 social justice protests, is in no rush to have a suit fitted and isn't thinking about choosing his next job.

Now, in the run up to the Labor Party primaries, scheduled for January 13, the three are busy attending rallies and shaking hands with the 50,000 or so party members who will elect Labor's Knesset candidates and assign them one of the remaining positions on the list following the alliance with Tzipi Livni, who's taken six of the first 25 spots – a realistic number of Knesset seats based on the recent polls.

All three were elected to their first term in the Knesset less than two years ago. In the party primaries back then, Margalit, Shmuli and Michaeli finished seventh, eighth and ninth respectively. Now, the three aren't merely seeking re-election, but want an upgrade too. And as is the nature of politics, the road to an upgrade involves making deals – Michaeli and Margalit have struck one with Eitan Cabel and Dani Atar.

Margalit: "A year ago, when Labor held primaries for the party leadership, Cabel and I withdrew from the race and supported Herzog. Merav supported him, too, as did Dani Atar… I see Eitan as a partner over the coming years too – a partner for all intents and purposes. But the fact that we are working together doesn't mean we are working against anyone else."

Michaeli: "I do not know about and haven't heard of any deals. We aren't telling people who not to vote for, but who to vote for instead – for Eitan, for Erel, for Dani and for me."
I hate to ask
The three are busy now not only with drumming up votes, but also funds. Labor is allowed to raise up to NIS 282,000 in donations and Michaeli, 48, says she has collected around NIS 100,000 thus far. "I try to raise funds abroad so as not to owe anyone here anything, and I also ask the public to donate small amounts via the Internet," she says.

"I find it hard to approach people and ask them to donate money to me. In the previous primaries, I asked people to volunteer and help me get onto the list; this time, I also have legislative achievements in the Knesset to show for myself."

For Margalit, 54, who turned to politics from the world of business and is thought to be a wealthy man who made a number of successful exits in the past, donations are less of a concern. "I have good friends abroad who have given me a little under NIS 100,000 because they believe in me and want to be part of my journey to the Knesset," he says. "I didn't ask my friends in Israel for money; I don't think that would be a healthy thing to do."

Shmuli, 34, has already amassed NIS 129,000. "Party members have donated small and symbolic sums; I did very little fundraising abroad," he says. "I raised NIS 200,000 last time, NIS 80,000 of which was my own money. Truthfully, I hate to ask. But those who identify with me politically find a way to contribute."

Labor is still digesting the alliance with Livni, but the three do indeed welcome the opportunity they believe it offers.

"There is a lot to say about this alliance," Michaeli comments. "But looking at the big picture, it has given rise to the opportunity to replace the Netanyahu regime; and therefore, it is good for the country and good for us."

Shmuli: "You know when I finally realized that the alliance is a good one? When a guard in the parking said to me this week, 'Well done, you're on the map, and now there's a chance to replace Bibi.' … It's no secret that Livni and I aren't on the same page in terms of ideology, but I felt more assured when she said that Labor would set the tone when it comes to the social agenda. After all, Bibi has been prime minister for six years and the country is going nowhere. This move offers an opportunity to topple Netanyahu – end of story."

Michaeli: "I agree with every word Itzik said. The public is yearning for the establishment of a government for the good of the people and not one that is living in a fantasy land. Netanyahu treats us not as citizens but like we are his subjects. The poverty and inequality is insane. And where's Mr. Security? Four months after the bloodshed and the money wasted in Gaza and again we are seeing hostilities in the south. I think that the alliance between Herzog and Livni will restore sanity to our lives."

Margalit: "The Labor Party is not supposed to be a niche party. It's the party that built the state. It's the party that should be an alternative choice for government. The public wants change and it's time to give it a chance. Herzog will work well with Livni, as he does with others."
The economic opposition
The alliance, meanwhile, still has no official name, with Herzog and Livni currently running under the banner of the Zionist Camp – but not for much longer.

"One thing is certain," Margalit says, "the Labor Party has to be the basis because it's the powerful brand that Livni has joined… So it's important to preserve the fact that the Labor Party is the alternative – and no one else."

Shmuli: "The name is an important thing; but the policy guidelines are more important and they need to be the focus, while strictly maintaining the identity of the Labor Party."

Michaeli: "Honestly? I haven't given it much thought. I'm not worried about the Labor Party disappearing in terms of its presence."

And if you don't manage to create an alternative, will you join a Netanyahu government?

Margalit: "No way. I am convinced that we will succeed and that Netanyahu won't be the next prime minister."

Just to remind you, Herzog served as welfare minister in Netanyahu's previous government.

Michaeli: "We stood up to the test in the outgoing Knesset and didn't join him."

Margalit: "I'm not going to sit in the same government as Bibi. I'm the economic opposition to Netanyahu. He leaves entire populations behind without any expectancy. People say he understands economics; but when you look at the figures, you see that he hasn't created and is absent from the economic discourse. Some 60,000 small enterprises have shut down. We had finance minister Yuval Steinitz who led us into a deficit, and finance minister Yair Lapid who led us into a depression."

Michaeli: "Netanyahu knows how to create growth that doesn't benefit anyone other than the upper decile. The projected growth is relevant only to those at the top and doesn't trickle down to the public, which is gradually sinking. The Labor Party is committed to economics that is committed to the citizens. One's heart breaks when one sees the percentage of workers below the poverty line."

Margalit: "We won't sit with the person who created this situation and is responsible for it."

Michaeli: "Herzog will form the next government. The public understands who is responsible for its dire economic situation."

But don't political and security issues decide elections in Israel, as many claim?

Michaeli: "It's not either political or economic. We need both. Israel's security isn't determined only by UN votes or squabbles with the United States. Our security is directly related to economic security. Political security and economic security should go hand in hand."

Margalit: "The last time Israel experienced a real change in priorities was with the Yitzhak Rabin government. One hand reached out in peace and fought terror, and the other hand reached out to the public in the north and south, in the Arab sector and the periphery. Companies in Israel were flourishing at the time; roads and interchanges, and a huge investment in education and infrastructure in the Arab sector too. In addition, Israel demonstrated an openness on the strategic level and was leading the way towards true dialogue. It gave the Israeli economy 7-8 of its best years in terms of economic development and optimism ahead of the next stage."

Shmuli: "The two issues – security-political and economic-social – are related and promote a line of social solidarity and equality. The public must look back and ask itself if it's safer now to walk the streets of Jerusalem, if it's easier to buy an apartment, if there are fewer poor people in the country. Unfortunately, the unequivocal answer is no. Under Netanyahu's government, 100,000 citizens have fallen into the cycle of poverty and housing prices have risen 86 percent."

Michaeli: "And Iran is closer to the bomb than ever before."

Margalit, meanwhile, believes he is the right man for the post of finance minister. "I think I'm very suitable," he says. "And that's my objective, too, I we form the next government. I want to generate just growth and I know how to. The economy is depressed and it can be extricated."

As finance minister, would you allow the antitrust commissioner to change the game rules in the gas sector?

"Although the decision is an inconsistent one, I support it so as to prevent a monopoly from having control of the gas sector," Margalit says. "However, we need to establish clear game and avoid going back and forth with decisions."

Michaeli: "When civil servants do too much, people get angry. When they don't do enough, they are criticized. If a mistake was made on the gas issue, it should be fixed. Monopoly over the gas doesn't only affect the cost of living; it's a threat to democracy. When so few hands are in control of so much wealth, of the entire energy sector, democracy is truly at risk."

Shmuli: "There are reasons why foreign investment isn't coming in, and it's not only because of the regulation. But also due to the security instability."
Have a guess
Just before we part ways, I ask the three to dare to guess how many seats their party will win in the upcoming elections.

"I am the chairman of the organizational headquarters and we're going to tear them apart," Margalit predicts. "We'll win more than 25 seats and have an advantage of 3-4 seats over the Likud. I also expect Lapid to drop to less than five seats and become less of a central player."

Shmuli: "The picture in the opinion polls will improve and a lot depends on the citizens. Go out and vote. I've taken on a mission for the upcoming elections – to get the young voters and voters from the periphery to the polls. I think that this time the voters will come to the polls with a more sober view of things, and that will work in our favor."

Michaeli: "Herzog will form the next government, with more than 25 seats – guaranteed."