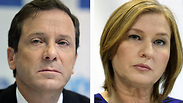 Center-left bloc leaders Herzog and Livni
Photo: EPA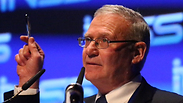 Former MI Chief Yadlin
Photo: Motti Kimchi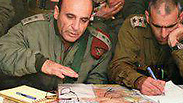 Shaul Mofav from time as IDF chief
Labor searches for military expert to join ranks
Sources within Labor party say Herzog holding talks with number of former IDF generals in hopes of securing military expert for center-left camp, as some insiders give insight to how and why former defense officials became such a hot commodity in elections.
Over 5,000 years of combined security experience in the form of 150 people, with a record of 30-40 years of security experience each convened in an event hall in Ramat Efal last week. They came to mark the establishment of "Commanders for the Security of Israel," an organization of senior defense officials who support diplomatic and defense arrangements.

A long name, probably temporary, which clarifies what Maj.-Gen. (ret.) Amnon Reshef, a fabled commander from the Yom Kippur War who founded the organization, thinks needs clarifying.

The event featured former senior Mossad officials - Zvi Zamir and Shabtai Shavit, who headed the Mossad, and department heads Yoram Hessel and Uri Ne'eman; Maj.-Gen. (res.) Amiram Levin, David Ben-Besht, Hagai Shalom, Giora Romm and Eyal Ben-Reuven; former IDF chief Dan Halutz; Brig.-Gen. (ret.) Israel Baharav - a legendary fighter pilot and one of the Air Force's shoot down champions; police Maj.-Gen. (ret.) Elik Ron and former deputy interior security minister Efraim Sneh.

All of them, with no exceptions, clarified they did not want to go into politics. So why were they there? "Because these are not regular days," Ne'eman said. "And we're looking for an alternative in order to influence."

And while Reshef and friends toiled to formulate and word their vision, not far from there Labor party chairman MK Isaac Herzog continued searching for a token security expert to fill the empty slot missing in the puzzle that he must complete by the end of January.

Herzog started his "shopping" trip - as some of the party's senior members called it - even before the decision was made to go for early elections, long before joining forces with Tzipi Livni's Hatnua.

He didn't skip almost any defense official. A partial list: Former chief of staff and defense minister MK Shaul Mofaz; former IAF commander Eliezer Shkedi, who was the CEO of El Al; Giora Eiland, who was the head of the head of the IDF Operations Directorate and the former Israel's National Security Advisor; former deputy chief of staff Uzi Dayan, who has since joined Likud; Amiram Levin, who was the GOC Northern Command and the deputy Mossad head; former Shin Bet head Yuval Diskin, who has so far stubbornly refused anyone who approached him; former Operations Directorate head Israel Ziv, who is currently the director of Global CST, which provides security consolation services and military training to security forces in Latin America and Africa; Dr. Yom-Tov Samia, the deputy GOC Southern Command during Operation Protective Edge; Yoav Galant, whose appointment for IDF chief was foiled at the last moment.



The list is not complete because some of the officials Herzog approached asked to remain anonymous, while others have yet to finish the three-year cooling period imposed by law to security officials entering politics. Herzog spoke to all of them personally, but he won't reveal who is still in the game. Off the record, party officials say it's either Dr. Yom-Tov Samia, Shaul Mofaz ("who has yet to be resolved obligations in Kadima") and Amos Yadlin ("who has still to reach an agreement)."

"This is repeated in every elections campaign," a Labor official says. "But this time it's really a mess, in Labor just like in other parties."
Between Dayan and Mitzna
"Until 1967," says Prof. Prof. Yagil Levy, who researches the relations between the army, society and politics, "only few military men joined politics: Moshe Dayan, Yigal Alon, Yigal Yadin. The change occurred after the Six-Day War and the rise of the IDF's status in Israeli society."
Party leaders recruited them, they were placed in high spots on the list and some landed immediately in front of the government's table. Most of them, at least in their first time, ended with a failed mark.
"Mostly from the 90's onwards," Levy says, "Amram Mitzna, Ami Ayalon, Amnon Lipkin-Shahak, Shaul Mofaz, Effi Eitam, Yitzhak Mordechai and others. They managed to get elected, but had a hard time surviving in politics."
"The security experts are no longer a hot commodity," says a PR woman involved in the elections campaign. "The joke in the Knesset is that their move to politics hurt Israel's deterrence."
A reality show
Political officials admit that the search for security experts is indeed a form of reality show. It was a reality show, they say, even when the parties went after major generals like Ehud Barak, Ariel Sharon, Yitzhak Rabin, Refael "Raful" Eitan, Avigdor Kahalani, but then the security experts were stars.
"Today there's a reality show, but there are no starts," says the chairman of one of the parties. "Not just in the defense field, but in the entire political system."
And so a rather dull bounty hunt continues, in which the determining factor is who will be the first to collect the more attractive candidates.
"Everyone's scouting everyone," a senior official in one of the parties says. "Everyone, or almost everyone, approached Diskin. Many approached Yadlin. More than one party turned to Eiland, Yom-Tov Samia, Shkedi, Meir Dagan."
The security experts approached by the bounty hunters say no one asked them what their worldview was.
"What amazed me," says a reservist major-general, "is the fact I was approached by right-wing parties, center parties and the Labor party. At first I thought this was to my credit - after over 30 years in the army, at least a decade at the top of the pyramid, no one knows my political views. But I quickly discovered it was not me, it was them. They want 'glory' and not worldview. They believe we will all get in line anyway, or as one of the heads of the larger parties told me: 'Between us, the differences are not that critical.' 'I'm having a hard time believing this is what you think,' I told him. 'Yes,' he answered me, 'and believe me, I have experience.'"
"It really does look like a menu," says Maj.-Gen. (res.) Eilad, who rejected the offers. "One is a single mother, another is gay and one is a security expert. And in any case, if I joined a party, I would've insisted to run in the primaries. Not just because it's the right and proper thing to do, but also to ensure my fate is not dependent on the whims of the party leader. About two years ago, I met Prof. Uriel Reichman in an event and told him about one of the offers. 'Don't go (into politics) on your own,' he told me, 'always have a group of supporters who voted for you. The method used in today's parties is use and dump and then look for someone younger, prettier.' What's happening now just proves how right he was. Today they throw you in, and tomorrow they throw you out."
"It's like a beauty pageant," says major-general (res.) Uri Sagi, who was the Labor party's one-time the security expert under Shelly Yachimovich's leadership, and quickly found himself out after a woman who was his soldier 30 years prior complained her sexually harassed her.
The deciding factor is the results of polls and focus groups held by more parties. The pollster offers names, the respondents are asked to rank who they trust, who they would like to see as defense minister and who will make them vote for one party and not another. Shkedi, for example, received high scores in the Labor party. Galant was leading the Kulanu (Moshe Kahlon's new party) poll and received high scores in several other parties.
"There were names that didn't gain or lose votes," one of the pollsters says, "and there were names that were ruled out because it turned out their credit with the public is very low, even though we didn't always understand why."