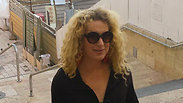 Transgender woman denied entry to womens section of Western Wall
When Kay Long came to visit the Western Wall in Jerusalem on Tuesday she naturally approached the women's section - as her life as a man seemed like a far-off piece of history. However, at the entrance to the holy site she was approached by one of the organizers at the women's section and was denied entrance.

Entering the men's section was out of the question for Long, who does not identify with the male gender any longer. Therefore Long was forced to give up on her visit to the Western Wall and her wish to place a note between the ancient Jerusalem stones. "God will also hear me from another place," said Long.

Hate Act

Group of men in their 20s assault transgender prostitute with pepper spray, tell police it was a harmless prank

"This was my first visit to the Kotel in many years," Long said in an interview with Ynet. "I arrived with a friend who had come from Madrid, and when I came close to the women's section, a woman who stood at the entrance, who prevents non-virtuous women from entering the place, noticed my height and came up to me and said, 'You cannot enter.' When I asked 'Why not?' she responded that it was a section for women only.

"Out of embarrassment, and because I did not want to start a commotion at a place such as the Kotel, I told her that she cannot decide who's a woman and who isn't and I started walking towards the men's section – truthfully, not with the aim of entering, because I do not feel comfortable on the men's side and wouldn't wear a kippah (yarmulke).

"When I arrived at the (men's) side, a couple of Orthodox men yelled at me that 'the women's side is over there.' Once again embarrassed and not wanting to start a commotion, because I respect the Orthodox and believe that for them it is more important to be there, I decided to leave," said Long, describing the traumatic experience.

This isn't the first time women encounter issues while wishing to visit the Western Wall – especially for groups such as Women of the Wall who have led the struggle for equal prayer for men and women at the Jerusalem holy site. However, Long's experience at the Western Wall suggests that the issue of transgender visitors to the holy site has yet to be properly addressed.

"It is unfortunate that the Orthodox prevented me from entering. I decided to respect them and not fight. It's unfortunate that the Orthodox woman did not choose to respect me as I chose to respect her," said Long.

News of Long's disappointing visit to the Western Wall went viral after she posted a picture of herself with the Western Wall in the background and wrote: "From a young age we learn that if we place a note at the Kotel our prayers might be answered… All that's left now is to take a picture and say a prayer from afar with the hope that it will be answered. Because God is everywhere and loves us all."

One of Long's Facebook friends commented on the photo and said the incident was proof of "disgusting discrimination" and "LGBT-phobia." Her friend also said: "Your prayers will be answered because you are a pure person and smarter than all of those who prevent you from coming close to the Kotel."

Another Facebook friend added, "In my opinion, people like Kay who live with their truth on the outside are much more holy than any wall or land."

"God is definitely not at the Wall, and your prayer will be answered because of who you are. God does not check gender, sexuality or other qualifications. God sees the soul of the person everywhere," said another person who saw Long's Facebook post.

Another respondent wrote: "It is very unfortunate that the most important heritage site in Israel is not accessible to all Israelis. If there is a God, be sure that in this situation he is on your side."