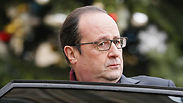 French President Francois Hollande visits scene of Wednesday's attack
Photo: AFP
French President Francois Hollande, the man who only several days ago instructed France's representative at the United Nations Security Council to vote in favor of the establishment of a Palestinian state, outdid himself on Wednesday when he declared that the massacre at the office of weekly newspaper Charlie Hebdo was "a terrorist attack."

What a quick, one-the-mark and accurate observation by the president, whose approval rate in this high-ranking position has hit an all-time low.

France Under Attack

Op-ed: Paris attack should become a milestone in the war against Muslim terror; but it won't, because the Western world is not physically or mentally prepared to fight the enemies rising up to destroy it.

It was a "terrorist attack," as opposed to three other attacks carried out by Muslims (which also resulted in casualties) in the past two weeks in different cities in France, which the authorities referred to as "acts of mentally ill people."

Add that to dozens of attacks carried out in recent years by Muslims, not necessarily against Jews, but also – and mainly – against Christians, without any serious – and mainly consistent – reactions against the large Muslim minority (more than 10%), which is of course taking advantage of the French authorities' helplessness.

Why it's clear that a country which fails to take serious steps against a population that closes off different quarters inside Paris with barriers and fences throughout the month of Ramadan in order to allow worshippers to pray on the streets and on the pavements, and forcibly prevents non-Muslim residents from reaching their homes during prayer hours, will eventually pay the price. And France is indeed paying the price.

Allow me to predict that the massacre against the satirical weekly (which also mocks Jews, by the way) is only the beginning. Because if the French authorities, led by the anemic president, who mostly excels in juicy love affairs, will fail to act immediately and with all their might, they will lose control over their country.

And if that happens, Marine Le Pen and her far right party will be seen by many French people as an excellent alternative. She will likely succeed in curbing the Muslims, but who knows what will remain of France.