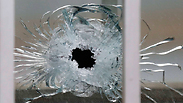 Charlie Hebdo shooting
Photo: Reuters
Twelve people were killed in a shooting Wednesday after masked gunmen shouting "Allahu akbar!" stormed into the Paris offices of a Charlie Hebdo, a satirical newspaper which had been firebombed in the past after publishing cartoons in 2011 joking about Muslim religious leaders.
Reports said two of the dead were police officers, and that there 20 people wounded, at least four seriously; the dead include the editor and the cartoonist of the paper. It was France's deadliest terror attack in at least two decades.
Satirical newspaper Charlie Hebdo (Charlie Weekly) has on several occasions depicted Islam's prophet in an effort to defend free speech and defy the anger of Muslims who believe depicting Mohammad is sacrilegious.
"This is a terrorist attack, there is no doubt about it," President Francois Hollande told reporters after rushing to the scene of the attack. His government raised France's security level to the highest notch and scheduled an emergency cabinet meeting.
The gunmen fled towards the eastern Paris suburbs after holding up a car, police officials said.
"There is possibility of other attacks and other sites are being secured," Police union official Rocco Contento said, telling reporters that three attackers got into a getaway car driven by a fourth man upon fleeing the building and drove to Port de Pantin in north-east Paris, where they abandoned the first car and hijacked a second – throwing the driver out into the road.
Meanwhile, France raised its terror alert to the highest level. Le Monde newspaper reported that Parisian newsrooms, including their own, were placed under police protection after the attack.
"About a half an hour ago two black-hooded men entered the building with Kalashnikovs (guns)," Benoit Bringer told the station. "A few minutes later we heard lots of shots," he said, adding that the men were then seen fleeing the building.
"It's carnage," a police official, Luc Poignant, told BFM TV.
French media are reporting that cartoonist "Charb", whose real name is Stephane Charbonnier and who was chief editor of Charlie Hebdo, was among those killed in the attack.
Earlier this week, the magazine published a cartoon mocking the Islamic State by showing a jihadist beheading the Prophet.
"The murders in Paris are sickening. We stand with the French people in the fight against terror and defending the freedom of the press," British Prime Minister David Cameron said in a statement on his official Twitter feed.
"All the White House is in solidarity with the families of those who were killed or injured in the attack," said Josh Earnest, spokesman for US President Barack Obama on MSNBC.
France last year reinforced its anti-terrorism laws and is already on alert after calls from Islamist militants to attack its citizens and interests in reprisal for French military strikes on Islamist strongholds in the Middle East and Africa.
The attack, as yet unclaimed, comes amid what a number of commentators have identified as rising xenophobia in Europe, with thousands of protesters in several German cities rallying earlier this week against Muslim immigration. France's five-million-strong Muslim population is Europe's largest.
"I am extremely angry. These are criminals, barbarians. They have sold their soul to hell. This is not freedom. This is not Islam and I hope the french will come out united at the end of this," said Hassen Chalghoumi, imam of the Drancy mosque in Paris's Seine-Saint-Denis northern suburb.
In 2012, two men were arrested in France on suspicion of plotting to behead the editor of the satirical journal. The threat came after a September issue included a front cover that depicted an Orthodox Jew pushing a turban-wearing figure in a wheelchair and also had several caricatures of the Prophet throughout the pages of the issue, including some of him naked.
The September 2012 cover
In 2011 Charlie Hebdo's offices were hit by a firebomb and its website was pirated after publishing an edition titled "Charia Hebdo" featuring several Mohammed cartoons.
The newspaper is headquarted in the 11th arrondissement of Paris, in the east of the capital.
The Associated Press, Reuters and AFP contributed to this report