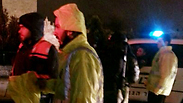 Scene of Jerusalem stabbing attack
Photo: Rescue Services
A Jewish man was stabbed Thursday evening outside the Damascus Gate of Jerusalem's Old City. The stabber fled the scene and police are still searching for him. Initial reports said the victim was in serious condition after was has stabbed with a screwdriver.
"When I arrived at the scene the victim was fully conscious, but was suffering from a stab wound by a sharp object. The victim is a yeshiva student and was probably on his way to the Kotel to pray," a paramedics told Ynet.
MDA paramedics were alerted to the scene and treated the man, said to be an American yeshiva student, and claimed the victim was in moderate to serious condition. He was taked to a local Jerusalem hospital for care.
Meanwhile, Border Patrol forces closed down roads in the area and searched the Old City for the stabber, said to be an Arab man, though reports of his identity have yet to be confirmed.
The incident took place at Sultan Suleiman St. in East Jerusalem. According to the paramedics, the victim was a 21-year-old Israeli male, with wounds to his upper torso.
The incident follows tense but calm weeks in Jerusalem. The last even reported from the capital took place at the end of Decemeber when two Border Guard officers were stabbed not far from Thursday's incident, near the Lions' Gate of the Old City in Jerusalem. The 19-year-old border policeman was stabbed in the neck and the 35-year-old officer was stabbed in his hand.
A day before hand a firebomb was thrown at an apartment balcony in the Armon HaNetziv (East Talpiot) neighborhood of Jerusalem. A fire broke out on the balcony, but was extinguished shortly thereafter. No one was hurt, but the balcony was lightly damaged. The incident came after a firebombing of a car that left 11-year-old Ayala Shapira seriously wounded with 3rd degree burns.
The incident followed a serious terror attack from the beginining of December, in which a terrorist entered a supermarket in a settlement on the outskirts of Jerusalem and stabbed two middle-age Israelis. An off-duty security guard, who witnessed the attack, fired at the terrorist and arrested him.