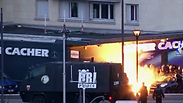 Police storm kosher supermarket under siege
France's counter-terrorism units on Friday acted competently and with sophistication, and were even well-equipped for events in which hostages were taken.

In both of Friday's raids – at the print shop where the two Charlie Hebdo gunmen were holed up and the siege at the kosher supermarket in Paris - they systematically and diligently gathered intelligence, using closed circuit surveillance cameras and even a man hiding in the print shop to devise a plan of action. They had also placed door-breaching explosives in both locations, which helped them enter quickly when they did decide to do so.

Another wise decision was to storm both places simultaneously, to prevent both sets of hostage-takers from knowing via the media or by phone hacking that a raid had been carried out in the other location. So, a few minutes after the operation started in the town of Dammartin-en-Goele, forces stormed the supermarket in eastern Paris. The French Interior Ministry had issued a misleading message beforehand that it intended to negotiate the terrorists at both sites, and French television, lo and behold, agreed not to broadcast images of the troops preparing for the raids. Yes, there is such thing as responsible media.

Related stories:

Ingenuity, skill and practice paid off. Unfortunately, instances of terrorists barricaded in with hostages usually end in casualties. This time most of the victims were killed by the terrorist at the supermarket in Paris and not during the action to bring the siege to an end. This time, they were Jews.

The French Interior Ministry may perhaps be proud of both operations conducted in parallel to rescue the hostages, but that's not what really matters. The main thing is not to allow such situations to arise at all - and here is where the French authorities can be found to be incompetent, if not unforgivably complacent.

There have been numerous murderous terrorist attacks in recent years on French citizens by Muslim fanatics who have returned from the Middle East. It was also apparent that jihad would continue to flow at an increasing rate from France and other European countries to the Middle East - and from there back to France and the rest of Europe, once the jihadists had been trained and brainwashed and left devoid of any tolerance for the values enshrined in Western democracies.

This is not a clash of civilizations, it is not even a clash of religions; it is rather an intolerance for any other values, in whose name it is possible to commit any crime. France already knew that well, long before the establishment of Islamic State.

Mohammed Merah - who in 2012 murdered four Jews at a Jewish school in Toulouse and killed a French soldier - was the writing on the wall. France is also involved, along with the United States, in action against radical Islam in the Middle East and Africa, and this makes it a target for revenge attacks by jihadists. In light of this, France should have long operated like the United States, making legislative changes to allow monitoring of all forms, including wiretapping and electronic surveillance of its citizens, even if it touched on individual rights to a certain degree.

The issue of how to create a balance between protecting human rights and personal security and the human right to privacy and freedom of expression and movement is a difficult one. I think that today, even in France or Germany, it is already clear that there is a need to bring this issue to a head, to come to the correct conclusion that human life is of supreme value and then pass laws that would make even these European democracies into defensive democracies, as prescribed by Aharon Barak, the former president of the Israeli Supreme Court. If the French had done so beforehand, they would certainly have tracked down the Kouachi brothers who perpetrated the massacre at Charlie Hebdo magazine.

Said Kouachi had been in Yemen, most probably training with the al-Qaeda ranks there. His older brother Cherif was jailed for recruiting Muslims to fight with al-Qaeda in Syria, and had tried to go there himself. But both were removed from the French security services' watch list in the last two years. Why? The French security services have limited resources while there was enormous potential for Muslim terrorism. Explain this in the Elysee Palace and the French Interior Ministry.

But such an explanation would in fact be no less than an admission of culpability. Not only was the writing was on the wall, and they should have acted accordingly and allocated resources, but the threat had been realized and was clear to the Europeans already in 2013, when the appearance of Islamic State made the problem an acute one that demanded urgent attention.

Any dearth of resources, manpower, electronic equipment and legislation does not justify the unnecessary risk posed to civilian lives due to neglect. French media commentators have today repeated various formulations of one question: Do we know where these terrorists are hiding? Unfortunately and with dismay, the answer is no.

And we have not yet even raised the issue that French Jews are now on the front lines, almost like us Israelis. Could the Jews of Paris and the surrounding area have done something to prevent the terrorist takeover of the kosher supermarket? It was probably possible, albeit difficult.

If, for example, the Jewish communities in Paris had organized security guards, even unarmed ones, on a neighborhood basis, it might have been possible to discern in advance that a terrorist had entered the supermarket armed with Kalashnikov rifles and wearing bulletproof vest, and it may have been possible to make it difficult for him in some way. There are enough excellent young Jews who are highly motivated and physically able, who could have been deployed in the area where disaster struck once it became clear that the terrorists behind the attack on Charlie Hebdo had managed to flee, and were walking around armed and seeking martyrdom.

These measures and others could perhaps have been taken, but for some reason were not. Protection was stepped up at Jewish institutions such as synagogues and schools, but not for all and certainly not for clearly identifiable Jewish businesses.

Defensive measures can be taken: Israel helped Algerian Jews, the Jews of Morocco and the Jews of Iraq to defend against Arab rioters in the 1950s and 60s. It is also possible for Israel to do so nowadays, depending on the situation and without overriding laws of France and other European states. It is only necessary to initiate and in particular to identify the dangers. Murderous jihad is no longer a future prediction. It is already in Europe to dangerous dimensions that justify decisive action across the board – in intelligence, legislation, law enforcement, prosecution and punishment.

Israel can help mainly in experience, know-how and electronic equipment for the Jewish communities, including training and security expertise. One cannot simply tell the Jews of France to move to Israel, and everything will be fine - there is a need to help them protect themselves.

It is likely that the latest events will provide the necessary jolt - not just for Jews of Europe, but also to governments who must understand that jihad is a global phenomenon and therefore the war against it must be global too.

American assistance with the latest attacks helped the French government identify track down the terrorists. This should be done not only through the United States, but across the international arena on a routine basis and with close coordination.