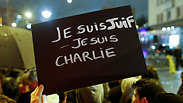 A support rally outside the kosher supermarket
Photo: EPA
Kosher supermarket attack victims to be laid to rest in Israel
Yoav Hattab had just returned home from a visit to Israel, Yohan Cohen saved a 3-year-old when he fought the terrorist, Philippe Braham always wanted to make aliyah and Francois-Michel Saada lived for his family's happiness; these are the four lives lost in the Friday attack.
The four hostages killed in the terror attack on a Paris kosher supermarket on Friday will be laid to rest on Tuesday in the Mount of Olives cemetery in Jerusalem, according to Robert Ejnes, the director of the CRIF, an umbrella organization of French Jewish communities, who is coordinating the transfer of the victims' bodies to Israel.
The four victims are Yoav Hattab, 21, Yohan Cohen, 20, Philippe Braham, 45, and Francois-Michel Saada, 64.
Yohan Cohen
"You took a part of me, I have no words to describe my sadness. I am destroyed for all of my life. All of our futures plans, all we had promised, how am I going to do this without you?" With those heartbreaking words, Sharon Seb said goodbye to her boyfriend Yohan Cohen, 20.

Yohan had been working at the kosher supermarket for the past year and was killed early on in the attack, after the supermarket's doors closed, his cousin Yonatan told Ynet.

"The police told the family the terrorist threatened to kill a three-year-old boy, and Yohan tried to stop it. He managed to grab the terrorist's weapon but before Yohan had a chance to shoot him, the terrorist put a bullet in his head and killed him on the spot," Yonatan said.

"My life was made for you, just for you. I'm speechless, I really cannot comprehend that I lost the love of my life. I can never recover," girlfriend Sharon Seb wrote on her Facebook page. "You were so healthy, pure, perfect. I do not want to come to terms with the fact I have lost you. I do not know how I'm going to continue living without you, I do not know how to stand, how to have the strength to survive without you by my side."

Seb said the two had been together for two years, and "had so many good years to share together. I do not understand, I still hope to get a call in the morning telling me that it's a mistake. I pray with all my heart it's a mistake. I really cannot live without you, it's impossible. I lost the will to live without you, I do not want anything anymore, because all of my plans were with you, not with anyone else. I feel empty. Come back to me. I love you with all of my heart and all of my strength, and no one can separate me from you. We said, 'in life or in death,' and I will keep my promise. I would love to be near you, to join you."

She thanked those who offered her support, but said it "still will not change anything, it will not lift my spirits."

Yohan's cousin Yonatan told Ynet that Yohan, who celebrated his birthday in October, "studied economics and wanted to work in a bank."

Yohan's parents immigrated to France from North Africa in the 60s - his father from Algeria and his mother from Tunisia - and settled in Sarcelles, near Paris.

Yohan, a rap fan, left behind two brothers and a sister. He visited Israel many times in the past. It was only a month ago that his maternal grandfather, famous Jewish-Tunisian singer Doukha (Mordechai Haddad), was buried in Netanya.

Much like many others in France, Yohan posted #JeSuisCharlie on his Facebook page, to show his solidarity with the 12 victims of the first of the week's terror attacks in the French capital.

Another cousin, Sharon Cohen, also took to Facebook to express her grief, "I hardly had time to open my eyes and I realized that you were no longer here. I still do not want to believe it, and yet I have no choice. Yohan, you were an example of kindness and goodness, you were the pride of your family and all your friends! And yesterday your life was torn away from you without scruples.

"01/09/2015 will forever burn in our hearts and we will avenge all those whose lives were torn off by the barbarians, I promise you!

"Yoyo, We love you more than anything and we're all thinking about you."
Philippe Braham
Philippe Braham was a father of four, his brother-in-law Shai Ben-David told Ynet, one child was from his first marriage and three from his second marriage to Ben-David's sister, Valerie.
His first son with Valerie (he also has an older daughter) passed away three years ago. "This was an incomprehensible tragedy for my sister. She survived only thanks to his strength," Ben-David said.
Philippe was a computer engineer and recently worked as an insurance agent near the supermarket. He went shopping there before the Sabbath when the attack occurred.
An Observant Jew, Philippe attended the synagogue in Montrouge, a Parisian suburb. His brother is the rabbi of the synagogue in Pantin, another suburb of Paris.
"He was a man who always wore a kippah, a Zionist whose dream was to make aliyah and he never made it. Every time he used to tell me, 'God willing we'll come, we'll make aliyah soon.'
"He loved Israel. He buried his parents and son here. He was an observant man who never harmed anyone. He visited Israel many times, the last time was several months ago to bury his mother. God avenge his blood," he said.
"We want him to be buried in Israel. The prime minister called my sister an hour and a half ago and promised Philippe will receive a state funeral," Ben-David added.
Refael Braham, Philippe's 14-year-old son, was in Israel when he received the horrible news of his father's murder.
"He was very close to his father and took it really hard," said the head of the French aliyah project in the Netanya municipality. "He has been crying and refusing to believe he lost his father."
"Dad went to the supermarket to shop for Shabbat. When I was with him (in France), we'd go shopping together quite often. If I hadn't made aliyah to Israel, I might have gone with him this time as well and gotten hurt," Refael said.
"Our son was saved from the attack," Carol, Refael's mother and Philippe's ex-wife, said. "There's hatred of Jews there, everyone needs to make aliyah to Israel. All Jews need to reach the conclusion Israel is better and safer for them. I came to Israel with my son and we feel safest here, we feel at home."
On the decision to make aliyah, Carol said: "Refael visited Israel and wanted to stay, while I saw all of the mess in France - Muslims' protested against Jews on our street and in our building."
Carol and Refael came to Israel in September, and were hoping Philippe would follow them, but on Saturday evening they received the horrible news. "There's no end in sight to the violence and hatred against Jews in France, we don't know where it's leading and what else could happen. People abroad need to know they're in danger," Carol said.
Yoav Hattab
A relative of Yoav Hattab said he had just returned to Paris from a visit to Israel as part of the "Taglit-Birthright" project on Wednesday.
Hattab left behind six brothers and was living in Paris alone, where he was studying.
His father, Rabbi Benjamin Hattab, is a school headmaster in Tunisia, and a prominent figure in the Jewish community there. The elder Hattab gave an interview to Ynet four years ago during the rioting in Tunis, talking about how the 2,000 Jews in the country were dealing with the tense situation.
During Operation Protective Edge, Yoav had an argument on Facebook with a Muslim youth. "When you have nothing left in life, you go and blow up, and try to take as many people with you. It's just revenge, and I would've done it as well," the Muslim youth, Muhammad, wrote to Yoav. "For me it's simple, Israel exists anyway so it's better to live in peace, there are no other options," Yoav replied, and posted the conversation on his Facebook page.
Francois-Michel Saada
Francois-Michel Saada, who was born in Tunis, was a pension fund manager. He was a father of two, with both of his children living in Israel.

"He led his life for the happiness of his family. A husband and an exemplary father," one of his friends said.

Roi Mendel, Omri Efraim, Tamar Nadav, Itamar Eichner, Rachel Cadars and AFP contributed to this report.