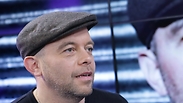 Mark Gardener
Photo: Yaron Brener
In the 90s, Mark Gardener and his band Ride were one of the prominent groups in the British indie music scene, which was just beginning to take over the world. They shared a label with some of the most successful bands at the time, including Primal Scream and, of course, Oasis.
But in 1996, at the height of the British invasion of the international music scene, the band broke up over disagreements between its members.
Since then, Gardener has launched a solo career, and also produced and worked with other artists. He was scheduled to perform in Israel last summer, but had to cancel his concert because of the deteriorating security situation during Operation Protective Edge.
But now, he's back in Israel to make up for that concert, and will perform an intimate acoustic set at the Barby club in Tel Aviv on Wednesday.
Interview with Mark Gardener (בימוי: סיגל מגריסו, צילום: אורי דוידוביץ' ואלי סגל, סאונד: אבי אזולאי)
Mark Gardener - Twisterella (בימוי: סיגל מגריסו, צילום: אורי דוידוביץ' ואלי סגל, סאונד: אבי אזולאי)
Several weeks ago, Gardener announced his band is to reunite after almost 20 years apart
after he made amends with band member Andy Bell (who has since played bass for Oasis in 2000 and up until recently played guitar for Liam Gallagher's band Beady Eye).
In what he says is his last solo performance, he is expected to perform both his solo music and songs from his days in Ride.