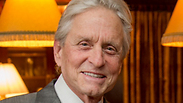 Michael Douglas
Photo: Genesis Prize Foundation
The Genesis Prize Foundation announced Thursday that its $1 million prize for 2015 will be given to actor Michael Douglas.
The prize,created to honor individuals who contribute to contemporary Jewish culture, will be presented to Douglas on June 18 in Jerusalem by Israel's prime minister and by Chairman of the Executive Jewish Agency for Israel Natan Sharansky.
Bar Mitzvah Trip
Hollywood couple arrives in Israel to celebrate son's bar mitzvah. After touring Jerusalem's important sites, family spotted having lunch at posh Tel Aviv restaurant.
Among the members of the two committees that selected Douglas was Nobel laureate Elie Wiesel, Knesset Speaker Yuli Edelstein and former Chief Rabbi of the United Kingdom Lord Jonathan Sacks.
"I share this honor with my family, who encouraged me to investigate the depths of the Jewish faith," said Douglas in response to the news. "I hope these lessons and values will be part of the legacy of the world I pass on to my children."
Douglas, winner of two Academy Awards, four Golden Globes, and an Emmy, is known for his intensive work as a Messenger of Peace for the United Nations, who focuses on the struggle to advance human rights, preventing gun violence, and working towards nuclear non-proliferation.
"The Genesis Prize Foundation is proud to honor Michael Douglas, both for his professional achievements and for his passion for his Jewish heritage and the Jewish State," said Stan Polovets, co-founder and chairman of the Genesis Prize Foundation.
"The Douglas family's experience of connecting with its heritage and embracing it on their own terms embodies an inclusive approach for Jews of diverse backgrounds. This is particularly important today, when the question of what it means to be Jewish has become more pressing than ever."
The Genesis Prize is awarded by the Genesis Prize Foundation in partnership with the Prime Minister's Office and the Jewish Agency's Chairman's Office.
The prize honors people "who have attained excellence and international renown in their chosen professional fields, and who inspire others through their engagement and dedication to the Jewish community and/or the State of Israel."