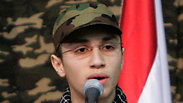 Hezbollah will respond to attack, but not by opening a front in the Golan
Analysis: IDF has raised alert on Syrian border, but Nasrallah's response to assassination of some of his senior commanders might lead to attacks against Israeli targets outside of Israel's borders. Hezbollah's massive arsenal of missiles and rockets will stay in organization's bunkers until the day Israel strikes Iran's nuclear facilities.
The sons of Imad Mughniyeh – first Mustafa, then the younger Jihad – graduated to the top of Hezbollah's military arm shortly after their father's assassination in February 2008. It is unclear what Mustafa Mughniyeh's role was in Hezbollah's leadership or what he is currently doing. But in 2011, he was the target of an assassination attempt in the Dahieh district of Beirut.

Jihad, Mughniyeh's younger son, also distinguished himself shortly after his father's assassination, but he was too young to take part in actual military operations. However, he was sent to Iran to meet with the commander of the Revolutionary Guards' extraterritorial arm, and three months ago he was even appointed to a relatively senior field position: Lebanese newspaper Al Akhbar, a usually reliable source, announced that he was appointed holder of the Golan portfolio in Hezbollah.

The role is unusual, even with Hezbollah's involvement in the fighting in Syria, because there is almost no Shiite population in the Golan Heights, and there are no sites holy to Shiites, but there is a varied population of Druze and Sunni villagers, some of whom are loyal to the Assad regime while others are opposed. Hezbollah was supposed to aid the militias that support Bashar Assad's regime in battling rebels among the Druze and Sunni and operating against Israel while they're at it.

In the past, Hezbollah attempted to hide its activities in the Golan. The reason for this is that if Nasrallah could barely justify Hezbollah's activity in other parts of Syria by saying he was protecting the Syrian Shiites and Alawites, the brethren of the Lebanese Shiites, then Hezbollah surely has no reason to be in the Golan Heights. The closest place in which Hezbollah was openly involved in battles was against Jabhat al-Nusra in the city of Daara on the Jordanian border, which is still a few dozen kilometers away from the Syrian Golan Heights.

But Hezbollah's real role in the Golan Heights, except for its activity against the rebel Druze and Sunni, was to create a channel for payback and revenge against Israel for alleged IDF strikes inside Syria's borders. And at the head of the branch planning these revenge attacks stood Jihad Mughniyeh, who was killed in the strike along with two other members of Hezbollah's top command in the Golan, as well as an Iranian advisor from the Quds Force. Or as Western intelligence sources said: "He was someone who stood at the head of an extensive terror infrastructure. Jihad Mughniyeh already planned and was preparing further major and murderous terror attacks against Israel in the Golan Heights."

Therefore, reported Hezbollah's media, attacking a group of leaders in the group's military arm is no coincidence.
A history of revenge attacks
As previously mentioned, Hezbollah's branch in the Golan was responsible for revenge attacks on Israel. For example, on February 24, 2014, Israel attacked – according to foreign reports – a weapons convoy within Lebanese territory bound for Hezbollah. The attack occurred inside Lebanese territory, as noted, and Hezbollah thus had legitimacy to claim that Israel had violated Lebanon's sovereignty, and that Hezbollah, in the role it gave itself as the protector of Lebanon, must respond decisively.
And indeed, nine days after that airstrike in Lebanese territory, which foreign reports attributed to Israel, Hezbollah attempted to place a large explosive device on the security fence in the Golan Heights. Fortunately, the IDF's intelligence assets noticed the Hezbollah militants when they were approaching the fence, used precise fire to kill at least two of them, and succeeded in foiling the attempt. The incident was even documented and publicized. But Hezbollah did not stop trying.
Less than two weeks ago, an IDF patrol was hit by an explosive device placed next to the security fence in the Golan. Four IDF soldiers from the Paratroopers Brigade were wounded, one of them critically. The device was placed such that the soldiers approached to check a suspicious movement on the ground, and then the bomb went off. Hezbollah did not claim responsibility, but it was fairly clear that it was their handiwork.
There were also previous incidents, in which Palestinians from Ahmed Jibril's organization launched Katyusha rockets towards the Hermon outpost in response to Israeli attacks in Syrian territory.
What happens next?
The most intriguing question is what happens next. It's perfectly clear that Hezbollah is not currently interested in a major escalation with Israel. But it's also clear – especially in light of Hezbollah's behavior lately and its Secretary General Hassan Nasrallah's speech last week – that Hezbollah is interested in creating a new balance of deterrence with Israel.
Why do defense officials estimate that Hezbollah is not currently interested in an escalation? The main reason is that the Iranians do not want a war between Israel and Hezbollah at the moment. They trained Hezbollah's fighters and sent to Lebanon a massive arsenal of tens of thousands of rockets and missiles of every type for one purpose only: so the Lebanese organization can land a heavy and precise blow against Israeli population centers and infrastructures, should the IDF attack Iran's nuclear facilities. The Ayatollah regime is not interested in Hezbollah wasting that on border skirmishes that have no strategic significance for Iran. This is the first and foremost reason.
The second reason that Hezbollah is uninterested in an escalation is that the militants killed on Sunday were killed in the Syrian Golan, where Hezbollah has no justification to operate against Israel under the title it gave itself as protector of Lebanon. In an interview last week, Nasrallah strenuously denied that Hezbollah has operated in the Golan in the past. The very fact that five Hezbollah men were killed right on the border in the Golan presents him as a liar to the Lebanese people, and it is therefore clear why Hezbollah has no legitimacy from the other groups in Lebanon, and from its own Shiite group, to operate in the Golan against Israel. Hezbollah and Nasrallah see themselves foremost as Lebanese, and they, according to estimates by defense officials, will be in no hurry to drag Lebanon into a war that has no distinct justification and legitimacy.
So what is likely to happen? Hezbollah will not remain silent. In a few weeks, we may encounter an explosive device on the border fence with Syria, or on Mount Dov, or perhaps even on the northern border with Lebanon. Another possibility is rocket fire towards population centers in the Golan, in the hopes that Israel will not escalate the situation. There could also be an anti-tank missile against an IDF patrol in the Golan fired by a pro-Assad Palestinian group. The organization may also respond with a symbolic act, such as flying a drone into Israeli territory – an action that would harm the IDF's prestige but not cause a disastrous response that would push the region into war.
Except that the blow Hezbollah suffered is of a magnitude that could, in its eyes, justify a terror attack abroad against Israeli targets, perhaps even with Iranian help, such as the bus bombing in Burgas, Bulgaria in July 2012 in revenge for the assassination of Imad Mughniyeh.
Hezbollah cannot let the deaths of five of its people, including the son of Imad Mughniyeh, pass by in silence, but it will hesitate to act in a way that will entangle it in a large-scale confrontation with Israel. The question is what will happen in this attempt at payback, and how Israel will respond. One way or another, the IDF will further increase intelligence activity over the coming days.