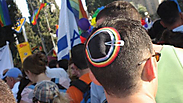 Can 'conversion therapy' be seen as a solution for 'people with inverted tendencies'?
Photo: Amit Lev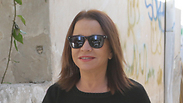 MK Yachimovich. 'The conference's program shames me and my world view'
Photo: Yaron Brener
Members of Israel's LGBT community and social media users are calling for a boycott of next month's Jerusalem Conference due to a planned session on "conversion therapy" for religious homosexuals, which will be held in the presence of a rabbinical figure, a psychologist and an LGBT representative.

The organizers of the conference, which is being held for the 12th year on behalf of the Besheva magazine for the national-religious public, decided to discuss for the first time one of the most sensitive issues in the religious society and LGBT community: Are the attempts to deal with homosexuality ethical, does conversion therapy have a chance of succeeding, and can it be seen as a solution for "people with inverted tendencies," as they are referred to in the sector.

Pride and Prejudice

Despite Health Ministry's rejection of treatments aimed at changing religious gays' sexual orientation, Rabbi Shlomo Aviner says men who have undergone such therapy are 'happy, love their wives and have good, normative families.'

Knesset Member Shelly Yachimovich of the Zionist Camp announced that she would not take part in the conference after its program was published last weekend, and demanded that the organizers remove her name from the list of participants.

Yachimovich, who was scheduled to participate in a different session, said that the conference's program "shames me and my world view: Equality for all people regardless of who they are."

She added that "if there is something which needs curing, it is homophobia, racism and xenophobia – to the point of defining a difference as a disease."

Yachimovich explained in a letter to the Besheva magazine, "In any event, I never confirmed my participation and you are using my name without my consent. Regardless of that, I was shocked to discover in the ad that the conference includes a session on whether 'conversion therapy' is a desirable solution for people with homosexual tendencies.

"'Conversion therapy' is an attempt to 'cure' people who are attracted to members of their own sex, as if it were a flaw or a disease. These imaginary and false treatments by different charlatans stem from a primitive and dark world view. It's sad and alarming that in 2015 there is even a need to explain that there is nothing wrong with being attracted to a member of one's own sex, and that the GLBT community members are citizens with equal rights who do not have to be cured of anything."

Yachimovich added that "there is a lot of evidence and testimonies on the mental damage caused to patients. The Israel Council of Psychologists and the Psychological Association have warned the public against these 'treatments,' and the Health Ministry has adopted this opinion."

She concluded her letter with a demand to "correct all the publications about the conference as soon as possible."
'We chose to deal with this issue courageously'
The conference's organizers said in response that they plan to deal with the issues on the agenda "courageously, responsibly and with real appreciation towards the other," and that they would have expected Yachimovich to actually congratulate rabbis in the Religious Zionism Movement for putting such an important issue, which has never been dealt with seriously before, on the table.

"It seems that Yachimovich was attacked over the weekend by the aggressive choir of LGBT organizations, without really knowing what happens in this conference, and definitely without asking or receiving a response from the conference leaders."

The organizers added that "unlike all those shouting against it, the conference will deal with the issue responsibly, seriously and out of an understanding of the distress of religious people who are looking for a solution to the conflict between their sexual inclination and their religious faith.

"We chose to deal with a painful and explosive issue courageously, and invited all the opinions dealing with the issue to a real and serious discussion (psychologist Eliyahu Ackerman, Rabbi Arele Harel, representatives of religious gays' associations and Haaretz journalist Benny Ziffer).

"It's a shame that Ms. Yachimovich, who is known for her tolerance towards the other, who is not religious, failed to understand the importance of the discussion and failed to raise some tolerance for religious people who are seeking halachic and rabbinic help for their distress."