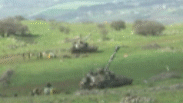 IDF responds to Hezbollah fire
Photo: Avihu Shapira
Hezbollah is clearly signaling a message that it sees its score with Israel has been settled. The ambush Wednesday morning that killed an IDF fighter and an officer and wounded seven soldiers is, by all indications, retaliation – and a suitable response in its view – for the killing of its senior officials and an Iranian general last Sunday on the Golan Heights.
Hezbollah is worried that Israel would respond with force the attack on its soldiers, destroy its vast missile system and impair the organization's ability to act as a strategic long arm for Iran. The Iranians have warned Nasrallah that this cannot happen.
Northern Front
Analysis: After Hezbollah's attack Wednesday, the IDF hoped that a chapter had ended: We did our thing, they exacted their revenge. As far as Hezbollah is concerned, that may be true. But whoever thinks Iran will settle for that is living in a dream world.
Therefore, the Hezbollah chief has been issuing conciliatory messages via every possible channel. And now, the ball is in the Israeli court. Prime Minister Netanyahu, Defense Minister Ya'alon, the chief of staff and his deputy are actually the ones who decide what happens next. They face a difficult dilemma: If they deal a major blow to Hezbollah in Lebanon, the result would probably be a total conflagration, probably the Third Lebanon War.
It would be a war in which Lebanon and Hezbollah absorbed terrible destruction and losses but the Israeli home front would also be severely harmed – if not more so. If Israel shows restraint it may lose the deterrent effect it achieved in the Second Lebanon War. On the other hand, Hezbollah could rightly boast that it is the one deterring Israel and not vice versa.
As a result, Hezbollah may in the future continue operations against the IDF, in a measured manner akin to the events on Wednesday, on the assumption that the IDF will continue to show restraint. Under such conditions it would be very difficult for Israel and the IDF to prevent the transfer of weapons from Syria to Hezbollah convoys in Lebanon and prevent the establishment of a second front against Israel on the Syrian Golan Heights.
These two strategic considerations actually balance each other out, making the decision more difficult. But there are also other considerations:
Firstly, by eliminating the "second front on the Golan Heights", Israel sees that its strategic move was successful. The very fact that Hezbollah felt pressured into acting Wednesday on Mount Dov indicates that at present it has no real ability to carry out a severe revenge operation against Israel on the Golan.
Two 107mm rockets fired Tuesday into Israeli territory cannot be considered a proper act of revenge. Hence, Israel – if the IDF did indeed assassinate Jihad Mughniyeh's command group – chalked up a strategic achievement that prevented, or at least delayed, the establishment of a second Hezbollah and Iran front against it on the Golan.
By contrast, Hezbollah's "achievement" Wednesday was to shed the blood of Israeli soldiers. Even by Lebanese criteria, this is barely a tactical achievement. For Israel it is – and rightly so – hard to come to terms with the death and injury of its soldiers, but grief in itself does not justify a move that would cause tens and hundreds of deaths and injuries on the Israeli side if and when a third Lebanon war breaks out. This is a cold and cruel consideration – but someone has to do it.
Another consideration is the composition of the government and cabinet. After the dismissal of the Yesh Atid and Hatnua ministers, the security cabinet is purely rightwing; it is devoid of legitimacy and a balance that is vital to decisions on war and peace.
The final consideration concerns the upcoming elections. If the present government decides on a harsh response that would trigger a major escalation, it would almost immediately be accused of dragging Israel into a political war designed to serve the ends of Netanyahu, Avigdor Lieberman and Naftali Bennett. No rational arguments, strategic justifications and considerations of national pride would help Israel's current political leadership. They would suffer a defeat at the polls.
These three considerations – it is fair to say – will tip the scales. It is reasonable to expect that the government led by Netanyahu and Ya'alon, and upon the recommendation of senior IDF officers, will decide to "contain" Wednesday's event and settle accounts with Hezbollah when the conditions are favorable to Israel from a public perspective, when it would be possible to conduct a swift military action with minimal damage to the Israeli side. This is not the case at present.
And this is without taking into consideration the international aspect. Iran – unlike Hezbollah – has not yet announced that it sees scores as having being settled regarding the attack on the Golan Heights. Hence Israel can assume that the Iranians are still preparing some kind of revenge. They are, however, now in negotiations with the US and European on a settlement over their nuclear program. So they will discover restraint, and instead rush to win over international public opinion if Israel does act against Hezbollah.
Nor can one ignore the fact that Netanyahu has reduced relations between Israel and the Obama administration to an unprecedented low. And in such a situation, it is not certain that Israel is guaranteed American support in the international arena if it acts with full force in Lebanon. Hence Israel would have a problem with international legitimacy if it came to a strong reaction against Hezbollah in Lebanon over the events of Wednesday. "Containment" is apparently the more palatable option to Israel's defense and political leadership.