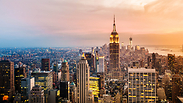 New York. Israelis' favorite city in the world
Photo: Shutterstock
If you could choose any destination in the world, which place would you most want to visit? A new survey reveals that the United States and Canada are the most popular holiday destinations among Israelis, followed by Thailand, Italy and France.

The survey was conducted by Rafi Smith and Olga Paniel of the Smith Research Institute ahead of the 2015 International Mediterranean Tourism Market (IMTM), which will be held in Tel Aviv next week.

Go South

Israeli resort city could become one of most popular destinations in the world, according to travel website's 2014 Travelers' Choice awards.

About 30 countries have confirmed their participation in the tourism fair, including India, Japan, South Korea, the Dominican Republic, Greece, Croatia, Spain, Sweden and Slovenia. Finland will take part for the first time. Turkey, which had the largest pavilion several years ago, will not attend this year.

The survey looked into different trends related to Israelis' vacations abroad, including countries they enjoyed visiting in the past, countries they would like to visit, and destinations they would like to travel to but are unable to.

According to the survey, the countries Israelis most enjoyed vacationing in are the US and Canada (10% of respondents). New York was chosen the favorite city. Thailand came in third (9%), followed by Italy (7%), France (6%), Spain, Greece, England, Holland and Germany (3% each).

The survey, which was conducted among 500 respondents, also revealed that while 8% of Israelis would like to visit India, only 3% of the population under the age of 30 sees India as a favored vacation spot compared to 8% among the 40-49 age group and 11% among the population over the age of 50.

A breakdown according to the level of faith showed that 24% of the secular and traditional public would choose New York as their favored destination compared to 19% of the ultra-Orthodox public, who prefer Paris. The only destination which all parts of the population agreed on was Barcelona (14% among all respondent groups).

Dubai topped the list of places Israelis would like to visit but can't, followed by Saudi Arabia, Indonesia, Iran, Lebanon, Abu Dhabi, Iraq and Syria. The survey revealed, however, that 42% of the public has no interest in visiting Arab countries.