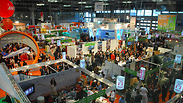 IMTM. 'The countries participating this year prove the importance of Israeli tourism in the world'
Photo: Rami Hacham
About 30 countries have confirmed their participation in the 2015 International Mediterranean Tourism Market (IMTM), which will be held at the Israel Trade Fairs and Convention Center in Tel Aviv on February 10-11.

Participants include representatives from India, Japan, South Korea, the Dominican Republic, Greece, Croatia, Spain, Sweden and Slovenia. Finland will take part in the fair for the first time. Turkey, which had the largest pavilion several years ago, will not attend this year.

End-of-Year Summary

Summer's Gaza conflict had a minor effect on overall number of visitors to Israel this year, thanks to a significant increase in arrivals in first half of year.

The IMTM fair is the annual event of Israel's tourism industry. It is organized by the ORTRA company and Israel Travel News in cooperation with the Tourism Ministry, and is sponsored by different commercial bodies. The fair attracts professionals in the incoming tourism and domestic tourism industries, as well as tourism officials from Israel and around the world.

"The countries participating in this year's fair prove the importance of Israeli tourism in the world," says Israel Travel News editor and publisher Eyal Shmueli, one of the event's initiators. "One can definitely say that many countries are focusing their attention on the Israeli tourist.

"We are witnessing an adaptation of the outbound tourism market in Israel to new, exotic destinations and we see the Israeli tourist adopting new vacation styles such as sailing and new vacation destinations such as Croatia, Slovenia, Georgia and Finland."