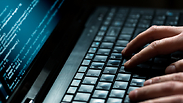 Paris company seeks non-Jews in online job ad
Photo: Shutterstock
A job ad published in France on Tuesday called for "non-Jewish" candidates and caused outrage to spread on social media.

The controversial job ad sought a graphic designer for a Paris company and appeared on a specialist website on Tuesday. The line, "if possible, not Jewish" appeared among the criteria for the position, according to a report by France 24.

The agency behind the content, Paris-based NSL Studio, appeared to justify the ad when contacted by French weekly Les Inrockuptibles and said the company was looking for someone who could work flexible hours and was not restricted by "cultural or religious concerns."

Later, an NSL Studio manager dismissed the comments given to Les Inrockuptibles, and said the line had been added by someone "outside the company."

Anti-Semitism

Physician tells Jewish woman suffering from fractured rib to go visit Gaza to help with pain.

NSL Studio added in a statement that the company "dissociates itself from all racist or anti-Semitic acts."

However, NSL Studio's claim that the anti-Jewish line came from outside the company was challenged by Graphic-Jobs.com, the site that published the ad, which denied that someone hacked the website to add the line about non-Jewish candidates.

Internet users were quick to take screen grabs of the post and led the post to go viral with many internet users sharing their outrage at the anti-Jewish job post.

A leading anti-racism watchdog group, SOS Racisme, has already announced it will begin legal proceedings against the Paris company that launched the anti-Semitic post.

French law clearly prohibits the referral of a candidate's "faith, sex, sexual orientation, ethnic, national or racial background, political opinions etc."

Following the backlash, the website that published the post removed the job ad and apologized for failing to spot the "scandalous" line, in a post they tweeted.

The incident comes amid an increased concern about the rise of anti-Semitism in Europe, and especially in France, in recent years. In January, France's main Jewish group said that anti-Semitic acts had more than doubled in 2014 compared to the previous year, according to France 24 news.

Previous studies in France have shown that discrimination in the job sector usually targets immigrants from disadvantaged areas, particularly with Arabic-sounding names, according to France 24.

French President Francois Hollande had promised to make anonymous CVs a requirement as part of efforts to fight discrimination. However, the government has not yet drafted legislation regarding the issue.