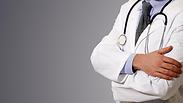 Belgian physician says he had an 'emotional reaction' (illustration)
Photo: Shutterstock
Anti-Semitism is on the rise across Europe, notably in locations such as France and Belgium, where several months ago, a gunman killed four innocent civilians at a Jewish heritage museum.

Then, just two weeks ago, a Belgian café posted a sign outside its window reading "No Jews Allowed."

JTA now reports that the anti-Semitic incidents continue to thrive in Belgium, with the latest victim being a Jewish patient who called a doctor asking how to cure a fractured rib.

Under Attack

Twenty-four physicians and scientists publish open letter against IDF's activity in Gaza in leading medical journal The Lancet. Health Ministry demands removal of letter's online version.

Rather than advising the patient, Bertha Klein, on how to treat the ailment, the Belgian physician suggested instead that she "visit Gaza" to help get rid of the pain.

The physician made the hateful comment on Wednesday while operating a medical hotline in Flanders, Belgium's Flemish religion. The capital of Flanders, Antwerp, has a considerable Orthodox Jewish population.

Klein, an American, had her son call the hotline at approximately 11 pm.

The physician responded, and answered "I'm not coming," before hanging up. When the son called again, the doctor stated: "Send her to Gaza for a few hours, then she'll get rid of the pain."

According to Belgian publication Joods Actueel, the doctor confirmed the conversation had indeed taken place, defending his hatred by saying he had an "emotional reaction."

Joods Actueel mentions that the doctor knew Klein's son was Jewish because of his American accent.

The Kleins eventually called an alderman friend of theirs, Samuel Markowitz, who called the doctor and recorded their conversation. Klein's grandson, Hershy Taffel, has since filed a discrimination complaint with Belgium police.

"It reminds me of what happened in Europe 70 years ago," Taffel said. "I never thought those days would once again be repeated."

Reprinted with permission from Shalom Life .