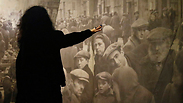 The POLIN Museum of the History of Polish Jews
Photo: Reuters
Five finalists were announced Wednesday in a competition for a memorial in Warsaw to Poles who risked their lives to save Jews during World War II.

An organization representing rescued Jews plans to build the memorial in the heart of the former Warsaw Ghetto and next to the POLIN Museum of the History of Polish Jews.

Jewish Heritage

Warsaw's newly built Museum of the History of Polish Jews sets out to remember not just how Jews in Poland died, but also how they lived.

It is being financed by private Jewish donors from around the world who want to show gratitude to their rescuers and ensure their memory is preserved. The Yad Vashem Holocaust museum in Jerusalem has recognized about 6,500 Poles who saved Jews. There are believed to be many more whose identities are not known.

The five finalists were chosen from dozens of submissions, and the winner will be announced in April.

There are critics of the project, however, who believe it is inappropriate to put a monument glorifying Poles at such a key site of Jewish tragedy. They argue that Poles could have done more to save the three million Polish Jews who were killed by the Germans during their wartime occupation of Poland. Some Poles also turned Jews over to the Germans.

One of the organizers, Konstanty Gebert, said he welcomes debates on the matter in order to raise the profile of the rescuers, whom he described as "humanity's true response" to the Holocaust. Gebert argued that the location is fitting because "those who were saved came from here, from the ghetto."

A Polish proposal for the memorial, by Andrzej Bulanda and Jadwiga Galczyk, involves a large door symbolizing refuge and the choice of paths people can take. An Austrian duo, Eduard Freudmann and Gabu Heindl, proposed a dense forest with many trees to symbolize the unknown number of rescued Jews.

Other proposed designs included a garden enclave with a wall telling the story of the rescuers, an archaeological site revealing the foundation of Jewish homes destroyed in the war, or a low lying, 75-meter (245-foot) long wall that resembles a sheet of paper being raised by its corner.