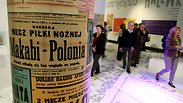 The new exhibition at Warsaw's Jewish history museum
Photo: AP
Old films, music recordings and everyday objects are among items that recreate the atmosphere of Jewish life in Warsaw until World War II in a new exhibition at Warsaw's Jewish history museum.
The "Warszawa, Warsze" – "Warsaw" in Polish and Yiddish – exhibition opens Friday at the new Museum of the History of Polish Jews, and will run through June 30.
Colored History
Upon marking 70th anniversary of Polish uprising against Nazis in Warsaw, new film composed of original footage with added color, sound will be released
In sections dedicated to writers, artists, family sagas and daily life it shows how the Jews and the city interacted, influencing and enriching each other. The loss of Jewish Warsaw is best shown in pictures comparing some sites as they are now – modern hotels and streets – with the low, old-style architecture of their Jewish times.
"We want to show this melting pot of the two cultures," Katarzyna Nowakowska-Sito, a museum deputy director, told a news conference Thursday.
Until the Holocaust, Warsaw had the world's second-largest Jewish community, after New York, Nowakowska-Sito said. One in three of the 1.5 million Warsaw residents was Jewish.


"The exhibition shows the dual character that the city had until 1939, when the Jewish part of it started to vanish," she said.
The multimedia core exhibition is to open later this year in the impressive modern building and will document in detail the thousand-year-long history of the vibrant Jewish life and culture in Poland that influenced all of the Jewish diaspora.
The museum building – largely funded by Poland's government and located on territory that was the Warsaw Ghetto during World War II – is already open to visitors, serving as a cultural and educational center offering films and lectures.
Some 3.5 million Jews lived in Poland before the war. Most of them were killed in the Holocaust, under the Nazi occupation. Many survivors fled under communist-sponsored anti-Semitic propaganda in the late 1960s.
The Jewish presence has been rebuilt since Poland shed communism in 1989, but the Jewish population of the country is still estimated at only around 20,000.