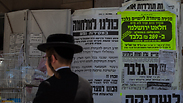 Bulletin board in Jerusalem's Mea Shearim neighborhood
Photo: Ohad Zwigenberg
Will the Jerusalem Municipality remove the famous modesty signs which have been hanging in the city's ultra-Orthodox neighborhoods for years?

Following the recent victory of four religious women from Beit Shemesh in a battle against signs disrespecting women,

Chastity Squad?

New modesty campaign sparks social media protest after appearing on 20 Egged buses in the capital. Advertiser says message directed at haredi public, while bus company refuses to intervene in campaign's content.

Jerusalem Councilwoman Laura Wharton and social activists Nili Weinfeld and Karnina Keinan have appealed to Mayor Nir Barkat, demanding that he remove the offensive signs from the capital's streets.

The four women from Beit Shemesh each received NIS 15,000 (about $3,850) after suing their municipality over similar signs hung in the city by radical haredi groups.

"The signs were meant to limit the use of the public domain by all women," Judge David Gideoni wrote in his ruling. "This could create an expectation or understanding that the area in which the sign was posted belongs in practice to a certain population."

Following the precedential ruling, the plaintiffs decided to do everything in their power to remove such signs from other cities in Israel, including Jerusalem.

Wharton, Weinfeld and Keinan are demanding that Barkat remove the offensive signs from the city's streets immediately, arguing that they were posted by radical elements without receiving the required permits.