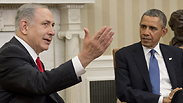 Netanyahu and Obama meeting in 2014
Photo: AP
Prime Minister Netanyahu does not need to wait for a natural disaster or a security incident for an excuse to postpone his address to Congress.
He needs to honestly explain that a leader is someone who at a moment of crisis can admit that a step he had planned has reached a turning point, and that the circumstances have changed.
Congress Speech
Op-ed: Despite his declarations, Netanyahu is thinking less about Iran and more about politics – both Israeli and American. While the Republicans are deriving pleasure from the slap in Obama's face, the price will be paid by us.
At this juncture, Netanyahu must make a decision not as a politician, but as a statesman who recognizes what's good for his country.
At this time, with the United States and Israel on a collision course, all the prime minister needs in order to preserve his status and the country's dignity is to find the exit and announce that he's not going.
If he does not do this, he will once again become the man who bested himself, because of impulses, because of ego, and because of poor judgment.
The wandering circus in Washington surrounding the visit is bad for Israel. The argument over Iran's nuclear program has become irrelevant: Netanyahu's visit will be characterized by background noises, and not the message he seeks to give.
The secondary will defeat the main point: global coverage will focus on the contempt, the disgrace, the political battle created by the Israeli prime minister, on the fire he is starting in American politics before Obama's eyes.
This visit was born in sin, and the punishment will follow. Obama has two years left in his tenure, and during this period, Netanyahu will not see the inside of the White House.
Obama won't do something to harm Israel, but the red telephone that connected the two offices will no longer always be available, and the government will not automatically act in opposition to moves against Israel in the international arena.
So, out of all the determination Netanyahu wanted to demonstrate, only the unpleasant chaos remains.
The big question is now why he is even going. No one has the patience to hear what he has to say anymore. Washington is no longer attentive: it doesn't matter what he says about centrifuges and enriched uranium. It won't penetrate and be absorbed.
The White House still expect rationality to win, and that Netanyahu will announce that he is postponing the visit.
Only then, the Americans believe, will it be possible to rehabilitate relations, or at least try.