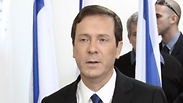 Zionist Camp Chairman Isaac Herzog
Photo: Avi Mualem
Prime Minister Benjamin Netanyahu was branded a "vacillator" by MK Omer Bar-Lev of the Zionist Camp on Friday.
Bar-Lev, a former commander of IDF special forces unit Sayeret Matkal, said at the Majdi Forum in Kfar Saba that unlike the prime minister, Isaac Herzog – the head of the MK's party – would have the courage to attack Iran military if necessary.
Bar-Lev said Netanyahu's hesitancy was proven "by every decision he has had to make, from the appointment of the Bank of Israel chief to the problem of destroying the tunnels in Operation Protective Edge."
Bar-Lev added that Netanyahu had failed on the Iranian question, and that he would not have the ability to use the military option.
"On the other hand, Herzog, when he is prime minister, will do what is right for Israel, and if he is forced into a position with no alternative, he will have the initiative and courage, unlike Netanyahu, to attack Iran in order to prevent it from becoming a nuclear state."
Bar-Lev also accused the prime minister of being responsible for deterioration in relations with the United States. "Netanyahu is currently playing tricks on the US at the expense of Israeli interests, and has failed in everything related to the agreement that is taking shape (with Iran), which looks like it will be very bad for Israel."
The deadline for talks regarding Iran's nuclear program has been set for March 31, and Netanyahu has said that his plan to address the US Congress next month is necessary to convey the dangers of a bad deal.
"The major powers and Iran are galloping toward an agreement that will enable Iran to arm itself with nuclear weapons, which will endanger the existence of the State of Israel," Netanyahu said at Israeli government's weekly cabinet meeting last Sunday.