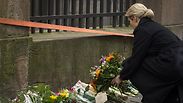 Danish prime minister visits Copenhagen synagogue following Saturday's attack
Photo: AFP
It was only about five weeks ago, following the murders in the Charlie Hebdo newspaper and in the kosher supermarket in Paris, that millions of people took to the streets for a protest march.

Leaders from many countries around the world led the masses under the slogans "Stop fanatic Islam" and "For world peace." Everywhere in the world, people took pride in this unprecedented huge show of force. And now?

A "show of force"? in light of the situation after those marches and declarations, we should in fact talk about a "false demonstration," nothing more than lip service paid by the different leaders.

Islamic Threat

Op-ed: While the international community is forced to defend itself and the Jews against Islamic terror with one hand, its other hand is busy pointing an accusing finger at Israel through the ICC.

As for the marchers, the common people, their intention was clearly sincere. It's clear that they came to express their complete reservation over the murders carried out by the conscienceless fanatic Muslims who have lost their humanity.

But the leaders of the free world knew that apart from the march and bombastic comments made on television and radio stations, there will be no serious continuation and definitely no efficient continuation of a determined, global battle against those cold-blooded murderers, who mocked and are still mocking the protestors and will not stop their crazy actions, not even for a minute.

On Saturday, the map of murder was joined by Denmark, and it's clear to everyone that this is just the beginning and that many other countries will be added to those Muslims' circle of evil and blood. After all, those murderers' leaders realized long ago that the democratic countries are nothing but paper tigers. In other words, apart from talking and launching one local operation or another, they have no intention and probably no means and abilities to efficiently fight the danger within their own states.

It's no longer happening in Iraq and Syria, but also in the free world's capitals and cities. The world seems to have missed the boat and now appears helpless. There is no other way to explain the almost complete impotency of those countries' leaders, led by US President Barack Obama.

When will they realize that in order to save the West and the world's democracy they must use all the heaviest and deadliest tools available, and what else has to happen before they wake up and take more drastic measures?