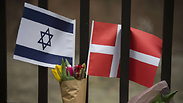 Israeli and Danish flags
Photo: AFP
Danish Jews turned down an offer by Prime Minister Benjamin Netanyahu to emigrate to Israel on Monday following a deadly weekend attack on the main synagogue in Copenhagen.

"We're very grateful for Netanyahu's concern but having said that, we are Danish – we're Danish Jews but we're Danish – and it won't be terror that makes us go to Israel," said a spokesman for the Jewish Community in Denmark, Jeppe Juhl.

Writing on the Wall

Following deadly Copenhagen attack, Jewish community leaders warn that Europe's Jews are subject to anti-Semitic persecution and anti-religious legislation, threatening their future in the continent.

"So we understand his concern for our well-being, and we value his concern but we are Danish and we're staying in Denmark. If we move to Israel it's for other reasons," he told AFP.

Danish Prime Minister Helle Thorning-Schmidt advised Danish Jews not to emigrate Monday despite Netanyahu's statement.

"The Jewish community have been in this country for centuries. They belong in Denmark, they are part of the Danish community and we wouldn't be the same without the Jewish community in Denmark," she told reporters the day after a 37-year-old Jewish man was shot dead when guarding Copenhagen's main synagogue.

On Sunday, Netanyahu called on European Jews to move to Israel after a Jewish guard was killed while protecting the Copenhagen synagogue – in one of two attacks in the city over the weekend.

"Israel is your home. We are preparing and calling for the absorption of mass immigration from Europe," Netanyahu said in a statement, repeating a similar call he made last month after jihadists in Paris killed 17 people, including four Jews at a kosher supermarket.

Danish intelligence said the gunman who opened fire outside the synagogue and a cultural centre may have been inspired by last month's terror attacks in Paris.

Two policemen who were injured outside the synagogue had been posted there after community leaders contacted authorities following Saturday's shooting at the community centre that left one person dead.

Around 8,000 Jews live in Denmark, most of them in Copenhagen and with smaller communities in the cities of Aarhus and Odense, according to the Jewish community of Denmark.

During the Gaza conflict in August, Copenhagen's Jewish school, Carolineskolen, had its windows smashed and anti-Jewish graffiti spray-painted on its walls.

The incident took place shortly after a rise in anti-Semitic crimes in Denmark prompted politicians to organize a "kippah march" in Copenhagen in support of Jewish people's right to display their religion openly.