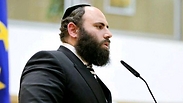 Rabbi Margolin. 'EU heads tend to bury their heads in the sand'
Photo: Rabbinical Center of Europe
The day after the deadly terror attack at a synagogue in Copenhagen, European rabbis described the atmosphere in the continent's Jewish communities as a "battle on terror in our homeland."

European countries' chief rabbis, city rabbis and community leaders warned Sunday that Europe's Jews were subject to anti-Semitic persecution and anti-religious legislation, which prevented them from living a safe Jewish life in the continent.

Under Threat

Danish Jews, who have historically enjoyed very good relations with fellow countrymen, reject Netanyahu's call for immigration; report says suspected Copenhagen gunman 'had history of offences', said to be of Palestinian origin.

They once again demanded the continent's leaders increase security around all Jewish institutions. meanwhile, they said they were not taking any risks and were preparing to defend themselves.

Rabbi Pinchas Goldschmidt, president of the Conference of European Rabbis, condemned the "horrific terror attack," which he said "is both sickening and a sign of the worsening extremism spreading across Europe."

Criticizing European leaders, Rabbi Goldschmidt said that "the Jewish community in Denmark is a microcosm of what is happening to Jewish communities across the continent. On the one hand they are under attack from extremist Muslims who see every Jew as a legitimate target, on the other hand, freedom of religion is curtailed by the government, religious slaughter has been forbidden and the parliament is in discussions about the future of religious circumcision.

"I truly hope that this latest attack will lead the people of Denmark to rally behind the Jewish community just as they did in 1943, securing the future of the community," he concluded.
'We demand increased security'
The European Jewish Association (EJA) was also shocked by the deadly terror attack at the Copenhagen's great synagogue. The organization's general director, Rabbi Menachem Margolin, called upon European leaders to take action on terror against minority communities.

According to Rabbi Margolin, EU heads have a tendency to "bury their heads in the sand," and do not act sufficiently in order to prevent anti-Semitic attacks from taking place – both security wise and through education.

"We demand that European governments and EU institutions increase security around all Jewish institutions," Margolin added in a statement Sunday. "European leaders need to support us in fighting the battle on terror in our homeland," he said.

Rabbi Margolin emphasized that "unfortunately, the Danish government, like other governments across the continent, has not yet implemented the need to secure all Jewish institutions 24/7.

"It is only because of the earlier shooting that took place in the Copenhagen café that police sent several officers to the synagogue, and they were able to return fire and chase the shooter," he added. "But the fact is that prior to the earlier incident, there were no police in the synagogue, and the unarmed security guard could have not prevented the terrorist from entering the synagogue and causing even more deaths."

Margolin called upon Muslim leaders across Europe, many of whom promote mutual respect between all faiths, to speak out loudly and firmly against extremism and bloodshed committed supposedly in the name of religion.

He noted that in the aftermath of this latest attack, the EJA's planned seminar next week in Prague, which will bring together dozens of rabbis and Jewish community leaders from across the continent, would offer training in basic self-defense and first aid.

"The alarms were already sounded last August when a Jewish school in Copenhagen was stoned and sprayed with anti-Semitic graffiti," the EJA director said of Saturday's attack.

"We call on European Governments, as well as EU institutions, to heed our calls for the establishment of a Pan-European task force in order to increase security around Jewish institutions and enhance education against the rampant anti-Semitism."