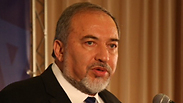 Lieberman
Photo: Motti Kimchi
The first bill to be proposed by Yisrael Beytenu in the 20th Knesset will seek to impose a death sentence for terrorists, Foreign Minister Avigdor Lieberman said on Tuesday morning at the INSS Conference.

Lieberman argued that if convicted terrorists are not executed, "we're inviting more and more terrorism."

At the conference in Tel Aviv, the Yisrael Beytenu leader said that "the fight against terrorism is the biggest challenge the world faces in the 21st century. This is also Israel's biggest challenge. But there's a large gap between what Israel is preaching to and what is actually done here."

"Releasing terrorists, including those who committed the most horrendous of attacks such as the lynch in Ramallah, is the worst possible message to send in the war against terror. We have to show terrorists we're changing directions. That there are no more deals," he added.

Lieberman repeated comments he previously made to Ynet, saying a third round of fighting in Gaza against Hamas is "inevitable."

"What's important is to already think how to prevent the fifth round of fighting. Every military operation must end with a decisive victory, otherwise we're eroding our capabilities and our deterrence. The fact we're heading to a military conflict against Hamas every two years doesn't allow Israel to make long-term plans, like a normal country, on policy and economic issues."