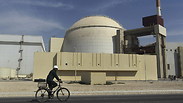 Nuclear reactor in Iran
Photo: AP
Israel's intelligence agency said in a 2012 secret report that Iran was not quickly progressing towards building nuclear bombs, according to a Guardian article published on Sunday.
According to the report, two weeks after Benjamin Netanyahu's 2012 claim in Congress that Iran was a year away from a bomb, Mossad shared with South Africa that Iran was "not performing the activity necessary to produce weapons".
The Guardian said the reports was one of hundreds of documents and cables leaked from the world's intelligence services, dating from as far back as 2006 to as recently December 2014.
The alleged Mossad report from October 2012 said Iran "does not appear to be ready" to enrich uranium at a high enough level to produce nuclear weapons, but that it was moving towards technology "which will reduce the time required to produce weapons ".
The report would, if authenticated, reveal a gap between public statements by Israel's top leaders and intelligence assessments.
The Guardian noted that Mossad and Netanyahu have had disagreements before; Meir Dagan, who ended his tenure as Mossad chief in 2010, said he had opposed an order by Netanyahu to prepare an attack on Iran.
The report in question is part of a large trove of secret communications leaked to Al Jazeera, which claimed to also possess documents showing that Mossad stole blueprints for anti-tank missiles from South Africa in 2010 and that this led to a cover-up.
The revelations come at a politically sensitive moment as the United States, China, Russia, Britain, France and Germany face a March 31 deadline to reach a deal with Iran to limit its nuclear programme in return for an easing of economic sanctions.
Iran denies seeking an atomic bomb, insisting that its nuclear programme is purely for peaceful energy purposes.
An Israeli government official told the Guardian that there was no contradiction between Netanyahu's statements and the report, claiming both state Iran was enriching uranium to produce weapons.
The leaked documents dating from 2006 to late 2014 consist mainly of communications between South Africa's intelligence agency and other agencies around the world, such as Britain's MI6, Russian intelligence and the CIA.
AFP contributed to this report.