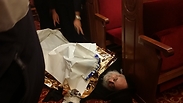 Rabbis train in first aid and self-defense
Photo: EJA
After a wave of attacks targeting Jewish community centers in Europe, a group of European rabbis have decided that if and when the time comes, they will be prepared.

The heads of the European Jewish Association and the rabbinical center of Europe have decided to train European rabbis in self-defense and first aid for victims of terror attacks.

Growing Fear

After centuries in which its Jewish community has lived in peace, Nordic country is proving no exception to rise in anti-Semitic attacks in Europe.

During a conference held in Prague Tuesday, 100 Rabbis gathered from across Europe to learn and practice basic-self defense practices used by security personnel and also received basic training in first aid.

The rabbis were presented with possible scenarios of anti-Semitic terror on Jewish institutions.

Rabbi Menachem Margolin, general director of the European Jewish Association, who initiated the conference, said: "Unfortunately, most of the Jewish institutions in Europe are not provided with appropriate security by the various governments.

This is why we have decided to provide Rabbis and Jewish community leaders across the continent with basic knowledge and tools in order for them to be able to provide initial first aid and self-defense during a terror attack."

Rabbi Margolin than quoted a famous line by Rabbi Hillel and said, "If I am not for myself, who is for me?"

The special conference came just 10 days after a deadly attack on a synagogue in Copenhagen. Dan Uzan, a Jewish security guard who was patrolling the entrance to the Jewish site was shot and killed by a terrorist who had carried out an attack against a free speech event just hours before.

Coupled with the attack that took place at a kosher supermarket in the outskirts of Paris, Jews across Europe are now on high alert and several European countries have increased security at Jewish sites.