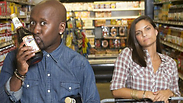 "Kosher Soul"
Photo: Richard Knapp/Lifetime/JTA
"Kosher Soul", a new US reality show on the Lifetime channel, attempts to give a humorous look into the life of a couple that come from two very different worlds.

The show follows the lives of LA-based stylist Miriam Sternoff, who is Jewish, and her fiancée O'Neal McKnight, who is an African-American from the south.

"Kosher Soul" premiered on February 25, and follows the couple's daily life after the announcement of their engagement. O'Neal is ready to prove his dedication to Miriam by converting to Judaism – partially in order to be accepted by Miriam's mother who wants her grandchildren to be raised in a Jewish home.

While O'Neal tries to embrace Sternoff's lifestyle and background, Miriam also makes an effort to make O'Neal feel at home by attempting to prepare kosher versions of classic southern soul food dishes – think fried catfish sans the catfish.

While some may find the real life portrayal of a unique couple amusing and funny – not everyone was on board with the show's concept.

Variety TV critic Brian Lowry said the show attempts to be an unscripted version of the 1970's sitcom "Bridget Loves Bernie" about a white, upper-class Christian woman and her Jewish husband and he did not buy the authenticity of the show.

Lowry referred to the show as a 'feeble excuse to showcase McKnight's stand up act,' claiming the dialogue is infused with sit-com plots which are hard to take seriously.

Lowry further says that it is no longer unusual to find a mixed-racial couple and that the show portrays simplistic stereotypes of both Jewish and black people.

Either way, O'Neal's journey to Judaism will be documented in the series, including O'Neal attending a Jewish circumcision ceremony.