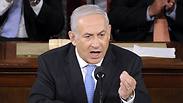 Netanyahu addresses Congress
Photo: AP
The White House is familiar with this Israeli hypothesis, they rejected it several months ago and Secretary of State John Kerry will not yield on the agreements already achieved with Iran.

When it comes to both houses of Congress, we must still wait and see. In order for Congress to prevent or delay a bad agreement with Iran - as demanded by Netanyahu in his speech – two or three bills must be enacted, and they have already been presented for debate.

Congress Address

Omer Benjakob and Roei Eisenberg

Op-ed: Despite his attempts to butter up the American public with Biblical references and home-grown phrases, Netanyahu failed to find new buyers for his aging snake oil; if not for disingenuous GOP applause, his speech would have fallen on deaf ears.

It's not enough for the bills to pass by a simple majority; a supermajority would be needed to overcome the veto Obama has already said he would use on such laws.

One bill requires the government to present the agreement to Congress for review and approval before it is ratified it and sanctions on Iran eased; two bills require the president to impose an additional package of sanctions on Iran now, or - in another version – if and when the negotiations blow up.

To overcome the president's veto, the Republicans need the Democrats who previously voted for the bill, but who announced ahead of Netanyahu's speech that they would stand behind their president. They decided to withdraw their support for the legislation in protest of Netanyahu's address to Congress as a guest of the Republicans.

And there is one more thing to bear in mind: The Americans are just one of the six powers negotiating with Iran. If the Europeans, Russia and China decide to that a bad agreement with Iran is enough, it will go ahead.

Even if the United States does not sign on to the deal, they will remove sanctions on Iran, such as, for example, the painful restrictions imposed unilaterally by the EU.

Bottom line, it just doesn't seem right now that Netanyahu's speech before both houses of Congress did anything to prevent or delay a bad agreement emerging with Iran. But Netanyahu's insistence on speaking before both houses of Congress has caused damage.

If Netanyahu is reelected, he will have to deal with a Washington president and administration hostile to him and his government, and an erosion of the bipartisan support that Israel has enjoyed so far on the American political scene. These facts have been clearly visible in the security and diplomacy arena for months now.

Regarding that an agreement with Iran, it is possible that the Iranian Supreme Leader will rescue us from a bad agreement. All signs now point to the fact that Iran has toughened its stance in the negotiations. It is demanding an immediate end to all sanctions, rather than the gradual easing that the world powers are proposing. And even Kerry will not agree to that.

So sometimes things work for the best regardless, even if the real goal was to parade about in Washington for the sake of two more Likud Knesset seats and an ego boost.