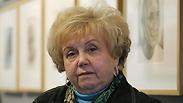 From her kitchen window, Paula Burger can see children playing in the snow. On days like this, she thinks of the harsh winters when she, her little brother, her father and other Jews were hiding from the Nazis in the wilderness.

"I remember the cold, being in a forest without having anyplace else to go, and not even being safe where you are," she said in an interview in her Denver apartment. "You make a conscious effort to live in the present. But the past is never far from you. It can come back in an instant."

Living History

Tzipi Cohen narrowly escaped death after listening to doll's 'advice' and fleeing on same night Hungarian soldiers killed all children at Red Cross shelter.

In her Holocaust memoir, Burger does not immediately confront the reader with the time when her choices were cold, disease and hunger in the forest; or brutality, cold, disease and hunger in the ghetto. Instead, she opens with her father carrying her on his shoulders to Sabbath services on a winter day before World War II. Afterward, the two walk home hand-in-hand.

"The journey culminated in the arms of my mother Sarah, who would pick me up and spin me around..."

"Paula's Window: Papa, the Bielski Partisans and a Life Unexpected" is a story of survival, but also of faith in family, compassion and the possibility of beauty.

Hollywood's version of Burger's experience was shown in the 2008 move "Defiance." Daniel Craig stars as Tuvia Bielski, one of four Jewish brothers who led attacks on the Nazis from forests along the Polish-Belorusian border that also were hideouts for fighters and their families. In a forward to Burger's book, Tuvia Bielski's son Robert writes of an "unbreakable bond" uniting survivors and their families.

Burger came to the United States after the war, first to Chicago, then to Denver, where she studied art. The walls of her apartment are lined with books, family photographs and paintings, including some of her own. Burger is known for light- and color-filled depictions of the menorahs that hold the candles lit at Hanukkah, the winter holiday, she writes, that "celebrates the Jewish people's survival over adversity, which is exactly what I witnessed in my childhood."

A member of the speakers' bureau of the University of Denver's Center for Judaic Studies and a frequent speaker at forums at Denver's Mizel Museum, which is devoted to Jewish art and culture, Burger has told her story many times. After she addressed one middle school class, a student approached to say that she, like Burger, was motherless. The Nazis killed Burger's mother; gang violence took the young Denver girl's.

"She said, 'I know how you feel.' Both of us cried," Burger said in an interview.

As she approached her 80th year, Burger became determined to ensure the last generation of survivors' memories and lessons lived on. She had struck up a friendship with Andrea Jacobs, a reporter for the Intermountain Jewish News who approached her for an interview about "Defiance." Burger asked Jacobs for help writing the "as told to" book.

Jacobs consulted histories of the Holocaust and biographies of the Bielski brothers to augment interviews conducted at a kitchen table under Burger's window. Jacobs said some of Burger's vivid memories of what she had seen herself were amplified by stories she overheard older relatives telling when they thought the children were out of earshot.

Burger, Jacobs said, gave her a blueprint for existing beyond survival: "You can remain the victim. Or you can create a new life for yourself."