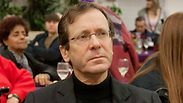 Isaac Herzog. His Zionist Union signed a new vote-sharing agreement with Meretz
Photo: Ido Erez
The joint Arab list for Knesset on Friday announced conclusively that it was not willing to sign any vote-sharing agreement, disappointing many who hoped the party could help forge new alliances in the upcoming elections.

Several overtures were made to the Arab list over the past few days to convince it to sign a vote-sharing agreement with leftwing party Meretz, hence allowing the Zionist Union camp to sign its own agreement with Yesh Atid with the goal of ensuring that no center-left votes be "wasted" during coalition negotiations.


Vote-sharing agreements mean that excess votes for each party – ballots which do not translate into a whole Knesset seat – are "donated" by smaller parties to their larger allies.

This method is known around the world as the Hagenbach-Bischoff method (in Israel the Bader-Ofer method) and is an attempt to strengthen political blocs at the expense of smaller parties.

Related stories:

Meretz signed a vote-sharing agreement with Labor when the parties embarked on their election campaigns, as in the past, but the union between Labor and Tzipi Livni's Hatnua and formation of the Zionist Union necessitated a new vote-sharing agreement – which resulted in the possibility of exploring other options.

But after the Arab list refused to sign an agreement, a new agreement between the Zionist Union and Meretz was submitted to the Central Elections Committee. This agreement left Yesh Atid without any vote-sharing agreement.