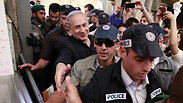 Netanyahu campaigning in Jerusalem. The PM has become a liability to the Likud
Photo: Likud Spokesman
The prevailing political opinion holds that the day after the election, Moshe Kahlon and Yair Lapid will run into the arms of a Benjamin Netanyahu government – and certainly if one of them is in a position to tip the scales between the two political blocs.
I was of the same opinion, until I took a walk through my neighborhood. It's a run-of-the-mill Tel Aviv neighborhood – neither north nor south, a neighborhood in which the residents and workers represent voters from all the parties; and it's pretty good at predicting the election results: A walk around the neighborhood ahead of the previous election provided a more accurate forecast than offered by the public opinion polls.
The most notable phenomenon in my neighborhood this time is the disappearance of the Likud. The earth has swallowed it up. I'm not talking about Likudniks; they continue to comprise a significant portion of the workers and residents in the neighborhood. I'm talking about Likud voters. Our neighborhood this time around isn't voting Likud – or, to be more precise, isn't voting for Netanyahu.
The anger towards Netanyahu is sometimes openly expressed, but usually remains suppressed – but it plays a decisive role when it comes to casting a ballot. The Likudniks in my neighborhood won't be voting Likud this time because of Netanyahu. As far as they are concerned, Netanyahu is a burden on the party and not an electoral asset.
They're wavering between Lapid, Kahlon and maybe even Isaac Herzog. And why not Naftali Bennett and Avigdor Lieberman? The answer I heard: Bennett and Lieberman were a part of Netanyahu's outgoing government and have announced already that they will join his next one too. So why vote for them? We may as well just vote for Netanyahu himself.
I got the impression that the rejection of the Bennett option was stronger than the negation of Lieberman, who following the dissolution of the partnership between Yisrael Beiteinu and the Likud isn't perceived to be in Netanyahu's pocket. Both these politicians appear to have erred in announcing their absolute support for the next Netanyahu government, if he is indeed charged with the task of forming one.
Problematic Politics
Op-ed: A Likud advert comparing dock workers to Hamas is just another way for Israel's ruling party to avoid dealing with state's fundamental problems.
Lieberman still has a chance to resurrect his standing (in my neighborhood) if he stresses his independence and expresses sincere willingness to also join a government headed by Herzog or serve in the opposition. He could still surprise.
Lapid continues to be weighed down by his tenure as Netanyahu's finance minister, but – in my neighborhood – the fact that he was dismissed from the post by the same Netanyahu is certainly working in his favor. It appears that Lapid really did try to make changes, say my acquaintances from the neighborhood, and that's why he was fired. They didn't let him see things through; they didn't let him work.
When Lapid sounds more and more like a determined oppositionist, support for Yesh Atid grows. And the same goes for Kahlon. People in my neighborhood are willing to give him a chance and vote for him, provided that he doesn't make the same mistake as Lapid did and choose to join the Netanyahu government. Kahlon's potential voters are individuals who are disappointed with Netanyahu – and they really, really don't want to see Kahlon as a minister under Netanyahu. If they wanted Netanyahu, they'd vote for him.
Kahlon and Lapid are aware of the sentiments of their constituents. They are both young and ambitious men. Both see themselves as prime minister at some point in the future. And both understand therefore that in order to be an alternative to Netanyahu's party, they have to stay out of the Netanyahu government. Neither is in any rush. They are willing to serve in the opposition, at least during the term in office of the next narrow Netanyahu government, for which they predict a short life span.
They won't serve as the bridge on which Netanyahu will tread en route to another premiership after the election. He shouldn't pin his political hopes and future on them. If either Kahlon or Lapid gets the chance to play the role of scale tipper after the election, they will thumb their noses at Netanyahu and won't lend a hand to his newest coronation.
And what about a Likud-Zionist Union coalition government? For the residents and workers in my neighborhood, the option of a Netanyahu-Herzog government is seen as unlikely and undesirable. Deceit and electoral theft – that's the message from my neighborhood to those who are weighing such a government. And my neighborhood is as Israeli as you can find.