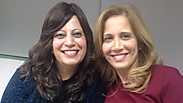 Gila Yashar (L) with MK Aliza Lavie. 'Chosen to take control of her fate'
Photo: Hila Scheinuk
Gila Yashar, an ultra-Orthodox woman who made headlines recently after being defined as a "get refuser" and handcuffed to a hospital bed, is taking significant steps towards independence these days by running for Knesset as part of a new party comprised of haredi women.

Yashar, who has been placed in the fourth spot of the B'Zechutan party list, was hospitalized and handcuffed two months ago for refusing the Jerusalem Rabbinical Court's order to accept a divorce from her husband, after the court had ignored the Family Court's decision supporting her financial rights.

Essence of Democracy

Op-ed: The brave ultra-Orthodox women of B'Zechutan are the only group being threatened over its desire to fulfill the basic democratic right to be elected to the Knesset.

Now, through her heartbreaking story, she wants to support women who have been refused a get by their husbands.

"I am in a place which has turned my silence into a courageous voice," she tells Ynet. "What I have been through has strengthened my feeling that every haredi woman must take her fate into her own hands and impact the political arena. When B'Zechutan reaches the Knesset, we will be able to make a change for all haredi women, so that none of them becomes a victim like me."
'An inspiration'
B'Zechutan Chairwoman Ruth Kolian, who had turned to Yashar and asked her to join her party, said she and her friends were "excited to have Gila Yashar by our side on the list" and were "praying that the way she rose up from a low place will serve as an inspiration for all women facing moments of crisis, wherever they are."

She added that the B'Zechutan party was raising the banner of advancing women's rights in general and haredi women's rights in particular. "We are fulfilling our principles," she said.

Knesset Member Aliza Lavie of the Yesh Atid faction, chairwoman of the Knesset's on the Status of Women and Gender Equality, who had helped Yashar with her struggle, met her recently at an election panel organized by WIZO Jerusalem.

"I was in for an exciting surprise when I ran into Gila at the panel," she said. "I discovered a strong, impressive woman, who has chosen to take control of her fate and singlehandedly make a change."

Lavie added that Yashar had chosen to enter political life after realizing from her experience in life that if haredi women won't do things for themselves, reality won't change.

"Those who are supposed to be representing them in the Knesset today do not represent them in many cases. I hope that in the next Knesset we will get to work side by side, and continue advancing and leading a policy which empowers women from all sectors in Israel."
Fighting for her rights
Yashar, a haredi mother of seven, including a disabled child, was sent to jail for 11 days following her refusal to sign divorce papers. She had insisted that the Rabbinical Court uphold the Family Court's ruling that her husband sign an authorization to transfer one of his six apartments to her and to their disabled son, before she signed the papers.

On her way to prison, she felt unwell and was hospitalized, handcuffed to a bed for 20 hours. She was discharged 48 hours later after the incident was reported by Ynet. Eight days later, the court held a special discussion in which she finally received the divorce she wanted.

"Four years of physical, mental and verbal violence have come to an end," she told Ynet in a special interview. "I would like to say to all women who are suffering: Don't let this go on, because things only get worse. No woman should have to go through what did."