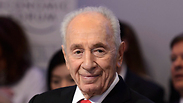 Former president Shimon Peres
Photo: AP
Former president Shimon Peres issued a statement on Thursday in support of Isaac Herzog, the Zionist Union's candidate for the role of prime minister.

Peres wrote that as Israel nears the day of elections, "it's natural for people to have different opinion and to vote according to their conscience. As for me – I supposed Herzog for prime minister.

"I have known Herzog and his family for many years, I've seen him up close filling senior positions with excellence and take part in debates and decisions that have great importance to Israel's future.

"He is a level-headed leader who maintains integrity, and is full of responsibility and dedication to the Israeli public," he said. "Herzog is fit for the role of prime minister and as a leader will know how to bridge gaps, and to join Israeli society in bonds of solidarity and hope."

Likud retaliated with its own statement. "Of course Peres, a pronounced leftist, supports Herzog and Livni – Peres is the architect of the Oslo Accords, enthusiastically supported the disengagement, and is devoted to the retreat from Judea and Samaria," read the statement.

"Only a vote for a large Likud and closing the gap between Likud and the Zionist Camp will prevent the establishment of a government of concessions and retreat that will allow a second terror state to be formed in the heart of Israel."

On Tuesday, a poll commissioned by the Knesset television channel found Zionist Union leading over Netanyahu's Likud by three seats.

The Panel Politics poll, conducted a week ahead of the March 17 election, showed the center-left camp led by Isaac Herzog and Tzipi Livni earning 24 out of parliament's 120 seats. Likud trailed slightly with 21 projected seats.

Moran Azulay contributed to this report.