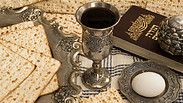 A traditional Passover seder
Photo: Shutterstock
If you're traveling over the Passover holiday but you'd like to attend a seder, you can choose from hundreds in the United States and abroad sponsored by the Jewish outreach organization Chabad Lubavitch.

The eight-day holiday of Passover begins at sundown April 3 and ends April 11. The seder is a ritual meal with readings, songs and special food, including matzo. Chabad will be holding seders the first two nights of the holiday.

White House Meal

Vered Guttman tells Ynet of exciting evening and the quinoa salad that impressed Michelle Obama at traditional White House seder.

The events will take place in every corner of the world, from Accra in Ghana, to Rio de Janeiro in Brazil, Hanoi in Vietnam and Queensland, Australia. There will also be seders on nearly 100 college campuses.

The events are open to the public and many are free, though it's best to let organizers know if you plan to attend so they'll be prepared for the right number of guests.

In Denmark, which recently experienced a terrorist attack at a synagogue, there will be community seders in Copenhagen and Arhus, along with other holiday programs and a model matzo bakery.

Some 400 seders are planned across Russia, while the largest single seder planned by the organization is in Katmandu, Nepal, which draws some 1,500 participants a year, many of them Israeli backpackers.

Those enjoying spring break in the Caribbean can attend seders on St. Thomas, Aruba and elsewhere.

The Seder Finder, at http://www.Chabad.org/Seders , lists some 2,000 communal seders.