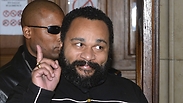 Dieudonne M'bala M'bala
Photo: AFP
French comedian Dieudonne M'bala M'bala was fined 22,500 euros ($24,000) on Thursday for a jibe against a radio journalist in 2013 suggesting that hearing the broadcaster speak made him think of Nazi gas chambers.

Creator of the controversial "quenelle" gesture that went viral on social media two years ago, Dieudonne this week already received a suspended jail sentence for condoning terrorism with a joke about January's Islamist attacks on a satirical magazine and a Jewish foodstore in Paris that killed 17.

Fighting Hatred

Ahead of trip to Israel, actor and producer outlines three causes of modern anti-Semitism, praises French PM and Pope for speaking out against it.

In this latest case, he risked up to one year in prison and a 45,000 euro fine for incitement to racial hatred.

The provocative humor in his shows has long put Dieudonne at the centre of a fierce debate about freedom of expression.

When Radio France's Patrick Cohen asked on air in 2013 whether media should pay so much attention to Dieudonne, he retorted that the journalist should consider emigrating.

"When I hear Patrick Cohen speaking, I say to myself, you see, the gas chambers ... too bad," said Dieudonne, the Paris-born son of a Cameroonian father and French mother.

France has Europe's largest Jewish minority, estimated at about 600,000, but is also seeing a steady emigration to Israel of Jews who say they no longer feel safe.

Statistics show a rise in anti-Semitic acts, and President Francois Hollande last month urged Internet companies like Google and Facebook to help fight hate speech online.

The 49-year-old comedian began his career with a Jewish sidekick in the early 1990s and appeared in several films.

Originally active with anti-racist, left-wing groups, he began openly criticising Jews and Israel in 2002, and ran in the European elections two years later with a pro-Palestinian party.

Dieudonne argues that his trademark "quenelle" sign is a gesture of non-conformism and anti-Zionism. Critics see it as a blatant variant of the Nazi salute.